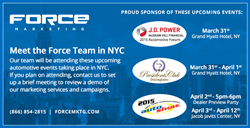 ATLANTA, GEORGIA (PRWEB) March 31, 2015
Force Marketing, one of the nation's leading automotive marketing firms, recently announced that it will be in attendance at the DrivingSales Presidents Club Event, taking place April 1, 2015 in New York City. The firm will also be sponsoring the WiFi at the event.
The DrivingSales Presidents Club is a private event held each year to bring together dealer group Presidents, Dealer Principals and General Managers to discuss trends, best practices and new ideas in the automotive retail industry.
Several executives and associates from Force Marketing will be in attendance at the event, including CEO and President John Fitzpatrick and Director of Digital Sales Cody Tomczyk.
"We're looking forward to attending the DrivingSales Presidents Club this year," said Fitzpatrick. "The ideas and strategies that come out of the conference are always both insightful and innovative, and it's an honor to have the opportunity to not only attend but sponsor the event."
Keynote speakers at the event include executives from DrivingSales, Cardinale Automotive Group, MK&A, and more.
The one-day event will take place at the Grand Hyatt Hotel adjoining Grand Central Station in New York City. During the week, the Force Marketing team will also be attending and sponsoring the NADA / J.D. Power 2015 Automotive Forum and the New York International Auto Show.
Those interested in Force Marketing's updates from the event can follow the agency on Facebook, Twitter and Instagram using the hashtag #DSPC, and can learn more about Force Marketing's presence at these New York automotive events at http://forcemktg.com/nyautoevents.
ABOUT FORCE MARKETING
Force Marketing is an automotive multi-channel marketing company headquartered in Atlanta, Ga. The company offers marketing services to an expansive client base throughout the U.S. and Canada. The company made Inc. magazine's 500|5000 list of the fastest-growing private companies in the U.S. in 2014 for the sixth consecutive year. More information about their auto dealership marketing services can be found online at http://www.forcemarketing.com.