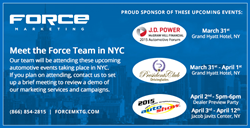 Atlana, GA (PRWEB) April 01, 2015
Force Marketing, one of the top automotive marketing firms in the U.S., recently announced that it will have a presence at the New York International Auto Show held each year in New York City.
A team from the firm will have a sponsorship table at the exclusive New York International Auto Show VIP Dealer Preview Party, held on Thursday, April 2nd. The party takes place from 5 p.m. to 10 p.m., with a reception from 5 p.m. to 7 p.m., and is by invitation only.
Each year, the New York International Auto Show provides auto manufacturers and brands to showcase new production vehicles, concept vehicles and other innovative new products. Dealers, vendors, press, and thought leaders from across the automotive industry also attend seminars, symposiums and other programs throughout the week.
"It's an incredibly exciting time to be a part of the automotive industry," said John Fitzpatrick, CEO and President of Force Marketing. "The New York International Auto Show is widely regarded as one of the premier automotive events in the world, and we're looking forward to the opportunity to take part in it."
Attendees of the New York automotive events will be able to register for a free multi-channel marketing analysis from Force Marketing, as well as a chance to win a $1,000 American Express gift card. Register at http://forcemktg.com/nyautoevents.
The New York International Auto Show is being held April 3 through 12 at the Jacob Javits Center in New York City. During the week, the Force Marketing team is also attending and sponsoring the NADA / J.D. Power 2015 Automotive Forum and the DrivingSales Presidents Club event.
Those interested in Force Marketing's updates from the event can follow the agency on Facebook, Twitter and Instagram using hashtag #NYIAS.
ABOUT FORCE MARKETING
Force Marketing is an automotive multi-channel marketing company headquartered in Atlanta, Ga. The company offers marketing services to an expansive client base throughout the U.S. and Canada. The company made Inc. magazine's 500|5000 list of the fastest-growing private companies in the U.S. in 2014 for the sixth consecutive year. More information about their auto dealership marketing services can be found online at http://www.forcemarketing.com.