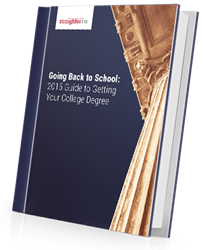 (PRWEB) March 31, 2015
StraighterLine, the low-cost online college course provider, today released the guide "Going Back to School: 2015 Guide to Getting Your College Degree" to equip adult learners returning to school with everything they need to know to prepare for their journey to a college degree.
Going back to school is a big decision and how to get started can seem overwhelming. The Going Back to School guide walks the future graduate through a successful decision-making process that includes weighing the benefits & costs of college, personal inventory & career assessment, evaluating online programs, choosing the right mix of college courses, and how to transfer credits.
Key takeaways from the guide include:

The benefits of getting a college degree.
Top ways to save on your college degree before enrolling.
How an online education can make a degree possible.
"College tuition has risen four times the rate of inflation while most family's resources have declined," says Burck Smith, StraighterLine's founder and CEO. "StraighterLine was built to fix that. Our college savings network lets students spend up to 60% less, get real academic credit, and receive the same degree they would have otherwise."
Read an ebook preview here: http://www.straighterline.com/blog/going-back-to-school-guide/
Download the guide "Going Back to School: 2015 Guide to Getting Your College Degree" here: http://www.straighterline.com/landing/how-to-go-back-to-college-guide/
StraighterLine solves the number one issue facing students today – the skyrocketing cost of college – with low-cost, high quality online courses that prepare students for success. StraighterLine combines a $99 a month college course subscription with guaranteed credit pathways to accredited degree programs to save up to 60 percent on the total cost of a degree. More than 10,000 students got started with StraighterLine last year.
StraighterLine takes the worry out of transfer with a College Savings Network of nearly 100 accredited colleges that guarantee credit acceptance of StraighterLine courses.
Having been evaluated and recommended by the American Council on Education's College Credit Recommendation Service (ACE CREDIT), StraighterLine courses will also be considered by more than 2,000 other colleges and universities for transfer to their degree programs upon request.
Media Contact
Beth Dumbauld
bdumbauld(at)straighterline(dot)com
443.712.7132