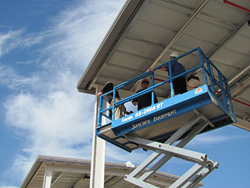 Bird B Gone is the one stop shop for all bird netting needs, offering competitive pricing and quality bird netting products.
Irvine, CA (PRWEB) April 01, 2015
Bird B Gone, the leader in bird control products for commercial, industrial and residential applications now offers a complete line of Bird Netting Hardware to install its wide range of bird netting products quickly, safely and efficiently.
Having the right hardware is crucial to the success of any bird netting installation. It's important to determine exactly what hardware will be needed in the planning stages of a project. This includes deciding whether to use all stainless steel or all galvanized hardware, for mixing the two may cause the materials to degrade with time and damage the bird netting installation.
Stainless Steel hardware should be used when the bird netting installation is exposed to frequent rain, high humidity, sea air or higher temperatures. Galvanized hardware should be used in dryer, cooler climates free of salty sea air; it should not be used industrial environments, where high sulfide and phosphate contents in the air can cause aggressive corrosion to galvanized materials. It's also important to walk the perimeter of any bird-netting job to determine what materials the netting will be attached to, e.g., wood, concrete, steel. Different types of hardware or attachments may be needed to secure the netting to a building.
To ensure a safe successful bird netting installation, Bird B Gone offers the following bird netting hardware:

Straining Wire. To support the netting. Available in two sizes: 3/32" wire for netting runs over 50' in length; and 1/16" wire for runs less than 50'.
Ferrules. To clamp down and secure the ends of straining wire. Available in copper for stainless steel cable or aluminum for galvanized cable.
Turnbuckles. Designed to endure the high stresses in supporting a cable system. Available in stainless steel for stainless steel net cable or galvanized for use with galvanized cable.
Corner Attachments. These high-strength attachments endure the high stresses encountered in the corners or 90-degree turns of a bird netting system. Available attachments include net bolts, mini net bolts, girder clamps, eyebolts and screw eyes—all in either galvanized or stainless steel.
Intermediate Attachments. Designed to hold a net cable securely against a wall or structure. Properly spaced, these attachments prevent netting from bowing, which can create gaps where birds can enter. Attachments include a variety of cable brackets, net spikes, lag screws, girder clips, S-clips, thin wire clips, net loops, split pins and anchor rivets—everything to get the job done right.
Bird B Gone is the one stop shop for all bird netting needs, offering competitive pricing and quality bird netting products.
Bird B Gone is the world's largest manufacturer and distributor of bird control products, providing effective and humane solutions to a bird-free environment. The company provides advice, training and installation services for those who need help with these and other bird control measures. For help in choosing the right bird netting hardware for any job, call the experts at (800) 392-6915.