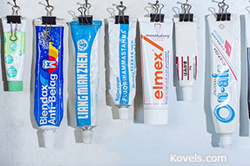 Cleveland, OH (PRWEB) April 01, 2015
For some collectors, it's not always about "antiques." Kovels.com lists their top 10 odd collectibles. "Everything is collected," say experts. "But some collectors are lured by the off-beat or unusual. Sometimes finding a collecting interest is as easy as looking around at things that fascinate. Doesn't have to be expensive and can even be free! Plus, you can just bet someone, somewhere out there with a similar passion and thanks to the internet, you can find them."
1) Plastic carrot bags. The large food service bags are best. Colorful graphics by talented artists help sell the carrots. Collectors also like vintage bags with addresses before zip codes were used.
2) Toothpaste tubes. The early ones are made of lead, now they're plastic. Look for strange graphics.
3) Bed pans. Collectors look for all sorts, from chamber pots to urinals, in porcelain and metal, even disposable ones made of pressed paper. An eclectic and amusing collectible—clean, of course.
4) Moist towelettes. A quirky collectible, but why not wet wipes in individual packets? Most are unused, but collectibles probably wouldn't turn down a used one from a celebrity. Those with strange brand names or from important events are most valuable.
5) Vintage x-rays. X-ray images have been around since 1895 (the first was a woman's hand), and they must have seemed like miracles. There are avid collectors, but they also make fun and macabre Halloween decorations.
6) Sewer pipe figures. Vases shaped like tree stumps were made for centuries by workers at pipe factories, often at the end of the workday.
7) Hawaiian shirts. The more colorful the better. Look for coconut shell buttons and labels from Hawaiian shops.
8) Postmortem photographs. In the Victorian era, most people didn't have images of their loved ones. Photography was new and when a loved on passed away, a post-mortem (after death) photograph was sometimes the only visual record of their existence.
9) Airline sick bags. Pilots call them "happy sacks" and passengers call them barf bags. But collectors call them little works of art and think they say a lot about an airline's image and the times.
10) Hair. Locks from famous people from Elvis to Napoleon are in collections. Don't ignore hair jewelry and hair pictures.
Collectors who go to Kovels.com can buy knowing the identifying features, marks and prices of antiques and collectibles. Kovels.com and the book, "Kovels' Antiques and Collectibles Price Guide," list thousands of collectibles in hundreds of categories that are described, edited, priced and pictured.
About Kovels.com
Kovels.com, created by Terry Kovel and Kim Kovel, provides collectors and researchers with up-to-date and accurate information on antiques and collectibles. The company was founded in 1953 by Terry Kovel and her late husband, Ralph. Since then, Kovels' Antiques has written some of America's most popular books and articles about collecting, including the best-selling "Kovels' Antiques and Collectibles Price Guide," now in its 47th edition. The website, Kovels.com, online since 1998, offers more than 1 million free prices, and includes a free weekly email, "Kovels Komments." It gives readers a bird's-eye view of the market through the latest news, auction reports, a Marks Dictionary, readers' questions and answers, and much more.
Contact Information:
Liz Lillis
216.752.2252
Pr(at)kovels(dot)com