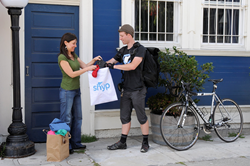 Shyp is shaking up the shipping business by taking the hassle right out of it! It's great to see a local tech company applying innovation toward community impact as well. Maureen Sedonaen, President and CEO of Goodwill.
San Francisco, CA (PRWEB) April 01, 2015
WHO:
-Shyp, the San Francisco tech startup that's reinventing the world of logistics by changing the way the items we ship get from A to B.
-Goodwill Industries of San Francisco, San Mateo, and Marin Counties, the 99-year-old social enterprise that turns donations into life-saving jobs.
-San Franciscans ready to shed items from their wardrobes and homes.
WHAT:
A free at-home pickup service for donations of clothing and accessories. Donors take a photo of what they want to donate and Shyp picks it up at their convenience.
HOW:
Any San Francisco resident can download the Shyp app on iOS or Android and take advantage of the service.
WHEN:
Wednesday, April 1, 2015 – Thursday, April 30th
WHY:
Goodwill re-sells, repurposes, or down cycles the donation to fund its job-training and job-placement mission, while ensuring that the textiles don't end up in a landfill. San Franciscans send more than 4,500 pounds of textiles to landfills every hour of every day. The social enterprise diverts almost 25 million pounds from local landfills yearly, and more than 640 local people got jobs through Goodwill last year.
QUOTE:
"Goodwill moves more goods through its supply chain every day than a lot of shipping companies. We're proud to help them make donating more convenient so that they can put more people back to work." Lauren Sherman, Head of Marketing at Shyp