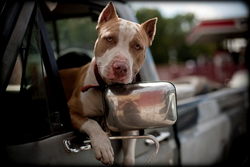 Pups and Trucks!
Titusville, Florida (PRWEB) March 31, 2015
What better way to spend a springtime Saturday, than relaxing by the river, checking out cool custom vehicles and meeting adoptable pets? On Saturday, April 11th, visitors can do just that at the first ever Pups and Trucks Adoption Event and Auto Meet, held at Crackerjack's Island Tiki, located at 2A Max Brewer Memorial Parkway in Titusville. There is no entry fee and visitors can view some of the most unique jacked-up trucks up-close and talk with the truck owners about their customizations. The SPCA of Brevard and the Brevard County Sheriff's Department Animal Services will have dogs available to meet and adopt on location as well. All adoption fees for the day are just $25!
In addition, Crackerjack's and Donovan Productions will provide live music, drink specials and there will be a 50/50 raffle to help homeless pets. This event is located right beside Sand Point Park, which is where the Indian River Festival will be held. So, plan on spending the entire day in Titusville, having fun and helping homeless pets!
There is no cost to enter a truck in the show. To register a vehicle, contact Jerome DeFrank at 321-362-9975 or for other event information, contact Susan Naylor at 321-567-3615 extension 248 or visit http://www.spcabrevard.com and click on the events tab.
###
About SPCA of Brevard
The SPCA of Brevard, Inc. is a private, non-profit organization with the mission of "protecting and providing a voice to the homeless animals of Brevard County." Founded in 1979 in Titusville, Florida, the SPCA is the largest private no-kill animal rescue group in Brevard, finding homes for 2300 animals a year. It is the first adoption facility with free-roaming cat rooms in the County, allowing adopters to interact with cats in a more home-like setting. The SPCA of North Brevard Clinic also provides reduced-price vaccines to the public and has performed more than 50,000 low-cost spay/neuter surgeries since 1999.
For more information, visit http://www.spcabrevard.com.