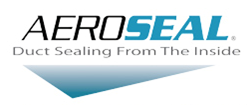 Frederick, MD (PRWEB) April 01, 2015
A new home energy savings solution developed with funding from the U.S. Department of Energy and the Environmental Protection Agency (EPA) is now available for the first time to many homeowners in central Maryland and southern Pennsylvania. Aeroseal is a breakthrough technology developed at Lawrence Berkeley National Laboratory that is 95% effective at sealing air duct leaks – a major source of energy loss that is estimated to plague 90 percent of homes and buildings in the U.S. today. Earlier this year, Holtzople Heating & Air Conditioning became one of the first licensed Aeroseal service providers in the area, making the breakthrough technology available for the first time to many local homeowners.
According to independent studies, most U.S. homes lose between 30% and 50% of heating and cooling air through leaks in the duct system. Aeroseal seals these leaks through a unique process that locates and seals the leaks from the inside of the ductwork. Aeroseal's impact on reducing home energy loss is so significant that it has been rated the single most effective means for increasing home energy efficiency in most homes today – about twice as effective as insulating the basement and more than five times more effective than upgrading windows.
Before Aeroseal technology, leaky ducts could only be sealed using sealing tape or applying a compound directly to the exterior of the duct where each leak was located. In contrast, Aeroseal is applied as a non-toxic mist that travels throughout the interior of a home's entire duct system. The microscopic particles of sealant locate and collect around the leaks until a permanent airtight seal is created.
"It's kind of like Fix-A-Flat for your heating and cooling system," said Jerred Holtzople, Owner of Holtzople Heating & Air Conditioning. "Since it works from the inside of your duct work, it easily fixes all leaks – even those hidden behind walls and under insulation. The entire process usually takes us just a few hours to complete and the results are immediate."
Aeroseal was selected as Popular Science's "Invention of the Year" and was recently named to the U.S. Department of Energy's "Top 100 Inventions" of the last 23 years. The technology was recently acquired by Aeroseal LLC., a company dedicated to making the technology available to home owners throughout the United States.
About Aeroseal Technology
First developed in 1994 by researchers at the Lawrence Berkeley National Laboratory and funded by the Environmental Protection Agency (EPA), The Department of Energy (DOE) and others, Aeroseal technology provides a highly effective method for sealing leaky ductwork in residential homes and commercial buildings. The Aeroseal process has proven to be the most effective, affordable and viable method of sealing leaky ductwork. More than 100,000 homes throughout the U.S. have been treated with Aeroseal.
About Holtzople Heating & Air Conditioning:
Holtzople Heating and Air Conditioning is a division of Holtzople's Incorporated, a family owned and operated HVAC company in Frederick, MD. The company provides complete installation, repair and preventive maintenance agreements for residential oil and gas furnaces, boilers, heat pumps and air conditioning systems.