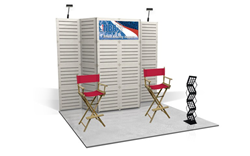 Tustin, CA (PRWEB) March 31, 2015
Displays and Exhibits, a leading online seller of trade show booth displays and imprinted accessories, is promoting an entire line of slatwall components and accessories for all Cosmoprof exhibitors with a ten percent discount promotion, enter price code cosmo2015. Lightweight slatwall merchandising systems are compact displays that place the product front and center in tradeshow exhibition spaces, very similar to the way convenience stores market products. Perfect for packaged goods, connectible and customizable slatwall paneling allows an exhibitor to hang or shelve products right in the booth space for an all-inclusive trade show shopping experience.
Cosmoprof North America will take place July 12-14, 2015 at Mandalay Bay Convention Center in Las Vegas. It is the foremost award winning international business to business trade show covering all aspects of the beauty industry under one roof. With close to one thousand exhibiting companies from forty countries and an estimated 30,000 show attendees from one hundred plus countries worldwide, Cosmoprof North America is the largest beauty event of its kind in the western hemisphere.
Displays & Exhibits also offers a substantial collection of marketing tools and accessories, including pop-up exhibit displays, hanging signs, iPad stands, table top displays and more. Displays & Exhibits works with large and small sized exhibitors from across the country to provide top quality trade show booth materials that give clients great show results. For more information on this promotion for Cosmoprof exhibitors, call (888) 282-8858 or visit http://www.displaysandexhibits.com.
About Displays and Exhibits
Displays and Exhibits is a division of Absolute Exhibits. Established in 2000, Absolute Exhibits began as a portable/modular distributor, and now rents large custom exhibits at over 300 shows in the USA and in countries around the world.
Displays & Exhibits was created to serve the needs of first-time exhibitors, seasoned exhibitors that go to multiple local, regional, national and international shows and clients that do community work, in-house events, fairs, and festivals. The company offers portable banner stands, display boards, digital kiosks, display lights, display signage, and exhibit furniture.