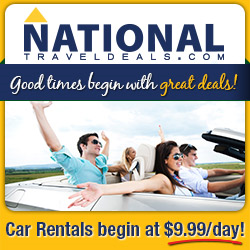 Home Run Deals for Babe Ruth Members
Tampa, FL (PRWEB) April 02, 2015
NationalTravelDeals.com announced it will be the Official Car Rental Sponsor of the Babe Ruth League. As the Official Car Rental Partner, NationalTravelDeals.com will provide access to it's preferred rates for Babe Ruth's 1 million members. With the NTD partnership, Babe Ruth League will have access to the best rates and suppliers in the industry for players and their family members. Also rates will be extended for Babe Ruth Staff, Umpires, and more.
"NationalTravelDeals.com is excited to partner with Babe Ruth League to showcase our great rates and services at one of the best baseball and softball organizations in the Nation," said Jeff Stanislow Partner with NationalTravelDeals.com. "This is a great match for NTD, as Babe Ruth League is a leader on and off the field. We look forward to helping this great league and their member families with their Car Rental needs for games, tournaments, and any other time members need rentals." "We welcome National Travel Deals as the Official Car Rental Partner of the Babe Ruth League," said Joseph Smiegocki, VP/Operations & Marketing for the league. "Sponsorship opportunities like this help us provide a great experience for our members and their families."
For more information about National Travel Deals and to book negotiated member rates visit http://www.nationaltraveldeals.com/baberuth
Check http://www.baberuthleague.org for the latest news and announcements.
About NationalTravelDeals.com
National Travel Deals is a USA-based (Tampa, Florida) corporation that offers car rental services in 125 countries and more than 20,000 locations around the world. Through car rental supply agreements with major car rental companies and the Company's ability to negotiate discount prices through booking volumes, National Travel Deals is quickly becoming the price leader in online travel services.
About Babe Ruth League
Babe Ruth League, Inc. is a non-profit, educational organization dedicated to developing better citizens by providing properly supervised baseball and softball competition for 4 through 18-year-old players. Serving over 1 million players the intent of Babe Ruth League is that every player who has a desire to play the sport is given the opportunity to participate and have fun.