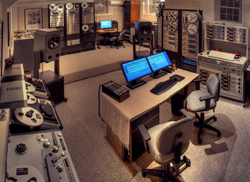 Imagine showing up to work one day to find two full pallets of Grateful Dead reels waiting. It took an entire summer to finish the job, and by the end I felt like I had been on the tour.
Freehold, New Jersey (PRWEB) April 15, 2015
Sonicraft A2DX Lab reports increased demand for its analog-to-digital audio tape transfer services due to a growing trend by music artists to provide new releases of old material in boxed sets, reissues and retrospectives along with previously unreleased material.
What few of these anxiously waiting music fans know is that when the labels and bands dig out their old reel-to-reel tapes from deep within the vaults, one of the first phone calls they make is Sonicraft A2DX Lab.
Sonicraft occupies a highly specialized but crucial niche in the music industry. They specialize in restoring and transferring the music on yesterday's analog reel-to-reel tapes into the digital domain so that they can be remixed, remastered and released using today's music production technology. Sonicraft is one of very few facilities capable of true professional-grade restoration and transfer of open reel tapes. They are also viewed to be the very best.
Many producers, labels, songwriters and musicians will trust no one but Sonicraft with their precious master tapes, which is why the company has been the transfer facility of choice for such artists as Bruce Springsteen, the Grateful Dead, REM, Jimi Hendrix, Lionel Hampton, John Cage, Hank Williams Jr., Michael Jackson, Louis Armstrong, Janis Joplin, Megadeth, the Osmond Brothers, Harry Chapin, Slipknot, the Chi-Lites and many others.
In fact, producers for the Grateful Dead recently entrusted the transfer of the reels from their entire much-beloved Europe '72 tour to Steve Puntolillo, Kevin Przybylowski and John Chester, the wizards behind the exceptional quality that Sonicraft is known for. Deadheads the world over consider this to have been a seminal tour for the band, and the original tapes are of inestimable value. Kevin Przybylowski, the chief transfer engineer for the Grateful Dead project said:
"Imagine showing up to work one day to find two full pallets of Grateful Dead reels waiting. It took an entire summer to finish the job, and by the end I felt like I had been on the tour. But what an honor and a pleasure to be able to transfer every show, especially from that tour."
And the new CD set, Bruce Springsteen: The Album Collection Vol. 1 1973-1984 released just before the holidays? All the original tapes were transferred into digital format at Sonicraft prior to remastering by Springsteen's team under the leadership of the renowned mastering maestro Bob Ludwig.
Sonicraft A2DX Lab is the official multitrack transfer facility used by Plangent Processes. The Plangent Process utilizes proprietary software and hardware that captures the bias signal (a hidden steady tone put on the tape when it was recorded) which it uses as a guide to re-create the original timing characteristics of the music. The effect of this is to reduce distortion and flutter, which are unfortunate but inevitable artifacts of tape recording. The Grateful Dead European Tour and the Bruce Springsteen CD set were both transferred at Sonicraft and enhanced by the Plangent process.
According to Sonicraft founder, Steve Puntolillo:
"Having our transfers worked on by the audio gurus at Plangent, mixed by the engineers for Bruce Springsteen and the Grateful Dead and mastered by the likes of Bob Ludwig is like having our facility put under a high-powered microscope. We are proud to come through that kind of scrutiny with the praise and approval of industry experts of this caliber."
Discerning audio professionals understand the difference offered by Sonicraft. There are still a few studios with old tape machines, and some of those will attempt to transfer an aging tape often risking damaging or even destroying it in the process. Sonicraft has masterfully elevated this process to the highest possible standards of safety and reproduction by meticulously restoring the choicest tape machines for each format, from ¼" two track to 2" twenty-four track. The team at Sonicraft restored, updated and evolved all their machines with audiophile grade components and breakthrough tape head technology with exacting standards and a passion for the art and science of analog audio tape. Almost every one of the Sonicraft fleet of tape machines now sounds better with greater clarity and openness today than the day they came out of the factory.
In addition to meticulous restoration techniques and high-grade audiophile parts, the Sonicraft team employs a full complement of audio tape noise reduction systems such as Dolby A, B, C, S and SR plus dbx Type I and II.
Furthermore, a significant percentage of analog tapes have become unplayable over time and Sonicraft technicians re-cure them in a laboratory-grade incubator and clean them on custom-built tape cleaning machines prior to playing to ensure that they will run without issues and with no deterioration from full quality reproduction.
Sonicraft's goal has always been to extract every subtle nuance and detail available on the original recordings so that musicians and producers can revisit their music and hear it with a freshness and detail that may not have even been possible the day it was first recorded. So when fans hear music that has had the Sonicraft treatment, they will be hearing it like it's never been heard before.