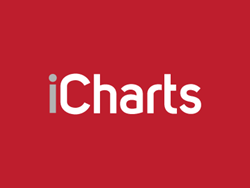 Sunnyvale, CA (PRWEB) April 01, 2015
iCharts, a pioneer in cloud-based Visual Collaborative Intelligence today announced that it was named a finalist for the 2015 SIIA Software CODiE Awards for Best Business Intelligence/Analytics Solution. The SIIA CODiE Awards are the premier award for the software and information industries, and have been recognizing product excellence for 30 years.
This year's program features several Software categories, many of which are new or updated to reflect the latest industry trends. Winners will be announced during a special virtual SIIA Software CODiE Awards Ceremony on May 7.
"More and more companies today are looking for an easy-to-use, but comprehensive business intelligence platform that empowers everyone in their organization to visualize their business. iCharts was founded on the principle of redefining both the creation and distribution of highly interactive visual dashboards that empower business users to quickly get the answers they need," said Seymour Duncker, CEO, iCharts. "We are honored to have been selected as a finalist in the prestigious SIIA Software CODiE awards."
Numerous organizations, from leading brands such as The Coca-Cola Company and IDC to high-growth companies such as Medidata Solutions have adopted iCharts' industry leading data visualization and reporting capabilities empowering everyone in their organization to generate real-time insights from their data. iCharts' patented technology includes:

State-of-the-art visualization: Its highly interactive visualization widgets can be exposed individually or composed into comprehensive dashboards that can be easily embedded in websites and enterprise cloud platforms.
End-user focused composition: With over 200 design options and a design paradigm focused on end-users, not IT, organizations can visualize almost any data set.
Robust and scalable platform: Its cloud-based platform was architected from the ground up to meet the most demanding data environments and business needs, scales to meet the demands of 10 or 10,000 users and includes API integration to leading enterprise cloud platforms.
"All the CODiE finalists this year showcase innovation and creativity in today's market. We are happy to recognize them for their products that are breaking ground in the software and services industries," said Rhianna Collier, VP & General Manager for the Software & Services Division at SIIA.
Details about each finalist are listed at http://siia.net/codies/2015/finalists.asp
About SIIA
SIIA is the leading association representing the software and digital content industries. SIIA represents approximately 800 member companies worldwide that develop software and digital information content. SIIA provides global services in government relations, business development, corporate education and intellectual property protection to the leading companies that are setting the pace for the digital age. For more information, visit http://www.siia.net.
About SSD
The Software & Services Division of SIIA (SSD) represents companies that develop the applications, services, infrastructure and tools driving the success of today's high-tech industry. SSD programs and activities are designed to foster company growth and success by providing professional insights and strategy, executive networking, industry exposure and business development opportunities. SSD member executives actively collaborate to share business and operational expertise, best practices, and new innovations to help companies efficiently build growing and successful businesses. For more information, visit http://www.siia.net/SSD.
About iCharts
Based in Sunnyvale, Calif., iCharts is the unrivaled leader in Collaborative Visual Intelligence, trusted by leading brands such as The Coca-Cola Company, IDC and MarketWatch. Its cloud-based visual analytics platform empowers everyone to quickly visualize complex business information, large-scale research and dynamic data sets. Its simple, easy-to-implement solutions empower users to rapidly create, distribute and collaborate via comprehensive dashboards, interactive reports and intuitive charts. Data Insights and Intelligence are rapidly distributed and disseminated, delivering knowledge and empowering decisions. Visit http://www.icharts.net for more information and join the conversation @icharts.
###
iCharts is a registered trademark of iCharts, Inc. All other trademarks and product names are the property of their respective companies.
Media contacts
iCharts: Ted Sapountzis, 650.472.0650, press(at)icharts(dot)net
SIIA: Allison Bostrom, 202.289.7442, abostrom(at)siia(dot)net