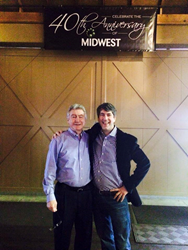 Canton, Ohio (PRWEB) March 31, 2015
Midwest Industrial Supply, Inc. celebrates its 40th anniversary this month, and it's growing faster than ever. Bob Vitale founded the company in 1975 and continues to serve as the company's CEO. From its more humble beginnings of tackling conveyor belt anti-icing for its very first customer, Conesville Generating Station operated by American Electric Power in Conesville, Ohio, Midwest has developed an impressive track record of results in nearly every heavy industry category, and has extended its expertise to include a host of environmentally conscious solutions.
Today, Midwest is a world leader not only in industrial dust suppression, but also in the fields of soil stabilization, natural paving, road and surface management as well as lubrication and anti-icing and deicing. Over the past 40 years, Midwest has made it their mission to help governments, municipalities, energy companies, heavy industrial facilities, and mines tackle their toughest operating and compliance challenges.
That problem-solving ethos is what led to the creation of Midwest. When Bob Vitale first started the business in 1975, the American economy was in trouble and the country was in the midst of an energy crisis. Identifying coal as an important fuel of the future, he sought a way to help coal mines and coal-fired power plants find a way to run their operations more safely and efficiently.
The seeds Mr. Vitale planted in 1975 are still growing to this day, thanks to the vibrant team and culture of innovation alive at the company's headquarters in Canton, Ohio. Since Midwest's founding, the world of energy has become increasingly complex, with government regulations and new technologies changing the field at a rapid pace. The company has made it their mission to evolve with the field, expanding nearly every year and maintaining their status as a leader in environmental services.
A solutions-oriented approach is at the heart of Midwest's vision. While they've invented a suite of over 30 patented products, their signature is the personal attention and expertise they bring to bear on the particularities of each project they're tasked with. The Midwest team relishes working personally with clients and tackling their most difficult challenges.
Last year, the company was named to the Inc. 5000 list for the 6th time in eight years, marking it as one of the fastest growing companies in America. It is a testament to the innovative mindset at Midwest that despite their age, they can continue to flourish at such an impressive scale. They have expanded their business in exciting new ways, offering innovative solutions in nearly every imaginable vertical, from the mining industry to solar energy. They have even pioneered an innovative approach to road building that is gaining significant traction in the market.
What began 40 years ago as a company trying to solve a single problem in the coal industry has now become one of the world's leaders in environmental and industrial services. As they take a moment to consider the journey, the Midwest family couldn't be prouder.
About Midwest
Midwest is the world leader in environmentally sound dust control, erosion control, and soil stabilization technology. We bring our customers more solutions, documentation and support than any other manufacturer. On a daily basis, we challenge ourselves to become even more accessible problem solvers so we can set a new industry standard for proactive and responsive service. Pushing the envelope is part of our corporate DNA, and we strive, always, to develop cutting-edge processes, products and services; stay on top of the learning curve, and educate our customers for our mutual success.