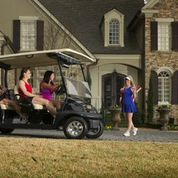 Club Car's Game Changer Sales Event lets qualified retail purchasers buy a new 2014 or 2015 Precedent golf car, Precedent Stretch PTV or zero-emissions, street-legal Villager LSV with 0% financing for 24 months.
Augusta, GA (PRWEB) April 02, 2015
From April 5 – May 31, 2015, qualified retail purchasers can buy a new 2014 or 2015 Precedent golf car, Precedent Stretch PTV (personal transportation vehicle) or zero-emissions, street-legal Villager LSV (low-speed vehicle) with 0% financing for 24 months or purchase any new 2014 or 2015 XRT utility vehicle and receive a free top and windshield.
"Many of these vehicles have new technology that ups the ante. These include electronic fuel injection, limited slip differentials or best-in class chargers," says Mary A. Sicard, consumer marketing manager.
Get Into the Game in a Precedent Golf Car or Four-passenger PTV
The new Precedent golf car is so advanced it's in a league of its own. Gasoline models cut fuel costs and emissions and boost power and range over previous models and competitive vehicles. That's due to a powerful new 14-hp rated Subaru engine with electronic fuel injection.
Quiet, zero-emissions electric models deliver the longest range in class and feature a new high-frequency, solid-state charger known as ERIC. ERIC issues audio and visual alerts to prevent common user errors. It also monitors the battery pack after charging and delivers power as needed.
"If you're looking for a vehicle for neighborhood transportation, test drive the Precedent Stretch PTV. It features four forward-facing seats, 35" of additional leg room, and a 19-mph Private Use Speed Option," Sicard says.
Dump the Pump in a Villager LSV
Tired of $50 fill ups? Consider the Villager LSV, an electric vehicle with a maximum speed of 25 mph. They are legal in almost all states on roads with speed limits of 35 mph or less. (Check your state.)
"In the United States, the Villager LSV costs about a third as much to own and operate as a gas-powered vehicle. It can be charged through a standard 110-volt outlet, and gets about 30 miles to a charge," Sicard says.
Get More Muscle Per Mile in an XRT Utility Vehicle
XRT utility vehicles are engineered for work, hunting and trail-riding. They are available in gas, electric and diesel models; two- or four-passenger models; and two- and automatic four-wheel drive that senses the ground it's on and shifts automatically.
The compact XRT™ 800 and XRT 850 with EFI engines now accommodate Club Car's optional Limited Slip Differential that automatically delivers traction as needed. "The system takes the vehicle into areas typically reserved for 4x4s: your favorite hunting site, mud, rough terrain, steep grades and wet surfaces," Sicard says.
Club Car vehicles are sold through Authorized Club Car Dealers. To find a dealer near you, visit http://www.clubcardealer.com.
About Club Car
Club Car, one of the most respected names in the golf industry, is the world's largest manufacturer of small-wheel, zero-emissions electric vehicles. The company's Precedent® golf cars with the exclusive Visage™ Mobile Golf Information System, and Carryall® turf utility vehicles are integral to successful operations at thousands of courses around the world. The company also offers a complete line of new, remanufactured and used golf cars, XRT™ utility vehicles and street-legal, low speed vehicles (LSVs) for personal use, all backed by Club Car's 50+ year legacy of superior design, manufacture and service. Club Car is part of Ingersoll Rand, and is based in Augusta, Ga. Visit http://www.clubcar.com.