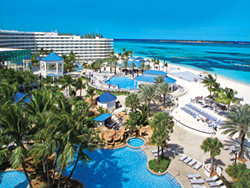 Popular wedding packages reflect what couples want: value without sacrificing quality or experience.
Miami, Florida (PRWEB) March 31, 2015
The destination wedding team at AskMeInc has revealed their top five destination wedding packages for 2015. The team rated the packages by the number of bookings and the rave reviews received from couples. Whether eloping or planning a grand celebration, AskMeInc offers irresistible destination wedding packages, starting as low as $1500, from resorts in the Caribbean, Mexico and Latin America including Meliá Resorts, Occidental Hotels & Resorts, Paradisus Resorts, Calabash Cove Resort, and Coconut Bay Resort & Spa.
"We are constantly speaking with couples, travel agents, hotels, photographers and other wedding professionals," said Hilary Lanzer, Managing Partner of AskMeInc, "They all report similar findings: couples want value without sacrificing quality or experience. And we have seen a continued increase in weddings occurring in Spring and Fall – kicking the June trend to the curb. The top five wedding packages for 2015 reflect both these trends – value and steady bookings regardless of the time of year."
Top Five Caribbean Destination Wedding Packages for 2015

Helping lovebirds say "I Do" at stunning locations in the Caribbean, Mexico and Latin America, the destination wedding professionals at AskMeInc work directly with couples as they plan their destination wedding. The destination wedding packages above, popular among couples who have used AskMeInc's services, allow couples to exchange vows in stunning locations with simple or sensational ceremonies any time of the year.
AskMeInc is a stress-free solution for destination weddings, honeymoons and romance travel. With more than a dozen romance representatives in their office, AskMeInc works with couples and travel agents to plan the perfect destination wedding. AskMeInc offers monthly webinars for travel agents and consumers, sales blitzes for hotels, and represents hotels at the top wedding shows across the USA and Canada. For more information visit http://www.AskMeInc.com.
###