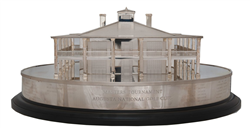 It's our greatest auction ever. We expect several new auction records to be set this week. -Ryan Carey
Tampa, Florida (PRWEB) April 01, 2015
Long considered a "Holy Grail" piece among Masters collectors, the only Masters Tournament trophy that Augusta National Golf Club has ever authorized for public sale is up for auction for the first time. The oversized sterling silver trophy is expected to fetch over $150,000 at auction.
Also highlighting the sale is the most valuable golf club in the world. The ancient golf club – called a "Square Toe Iron" – dates to the late 1600s to early 1700s, and is expected to sell for well over $100,000 at auction. When this club previously sold at a 1992 Sotheby's auction, it set a world record price for a golf club by bringing $178,000.
The auction also includes items from the personal collection of two-time Major Champion and British Ryder Cup legend Tony Jacklin. Highlights include Tony Jacklin's 1969 Open Championship Claret Jug and Jacklin's Ryder Cup trophy from "The Concession" at the 1969 Ryder Cup Matches.
These items, as well as over 1000 other golf antiques and memorabilia, are currently up for auction at http://www.GreenJacketAuctions.com. Auction concludes April 11, 2015