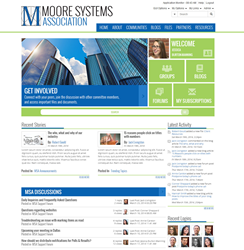 "The impact that associations can make when they integrate Socious and iMIS is unmatched in this space"
Gilbert, AZ (PRWEB) March 31, 2015
Socious, a leading social platform provider for customer communities, member communities, and user group communities, is expanding its integration with the ASI's iMIS association management software (AMS).
Socious uses a turnkey integration to enable association professionals to manage member information and group segmentation, such as communities for different member types, board affiliation, and committee membership, directly from their iMIS system.
Having a best-of-breed integration in place saves association staff hours of manual data manipulation, prevents human error, and creates a seamless online experience for members.
"iMIS and Socious are both designed to help associations and other membership organizations increase member engagement. The impact that association executives can make when they integrate the two platforms is unmatched in this space," said Paul Schneider, senior vice president and co-founder at Socious.
Socious will showcase its association online community platform for iMIS customers at the upcoming NIUG iMIS user group conference in Austin Texas from April 20 - 22, 2015.
Socious is also teaming up with ATS, a top Authorized iMIS Solutions Provider, to lead an upcoming webinar for association executives. This free online event, How Associations are Leveraging Online Communities and iMIS to Provide more Value to Members, will be held Thursday, April 2, 2015 at 2:00 p.m. EDT.
Attendees will learn:

How to leverage private member communities to grow membership and increase retention.
Why peer-to-peer communities keep more members engaged than other channels.
How to manage your online community efficiently and effectively from your iMIS platform.
Learn more and register for the webinar at Socious.com.
About Socious
Founded in 2002, Socious (socious.com) offers the industry's most complete online community software to large and mid-sized businesses, associations, and user groups. The Socious platform manages over 1 million customers for many of the world's top companies and membership organizations. Socious' peer-to-peer community software includes private social networking, customer communication tools, discussion forums, membership management, collaboration tools, and a mobile platform to help organizations increase sales, retention, and customer engagement. Socious provides a full range of professional services to help organizations plan, launch, and manage their online customer community. Take an online tour of Socious online community software.
###