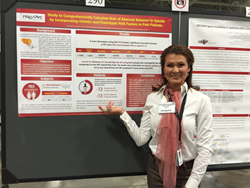 IRVINE, CA (PRWEB) April 01, 2015
Proove Biosciences, a commercial and research leader in Personalized Medicine, presented two scientific posters at the Annual Clinical Genetics Meeting in Salt Lake City, Utah, last week. The four-day event was hosted at the Salt Palace Convention Center and attracted over 2,000 genetic specialists dedicated to educating genetic and genomic professionals on breakthrough advances in clinical genetics.
Proove Biosciences presented Genetics and Insomnia: Study on the Role of DAT1 in Risk of Insomnia on Thursday, March 26th, 2015. The Genetics and Insomnia study analyzes 12 genetic markers then determines the influence of genetics in insomnia and the genes that may play a role in susceptibility to insomnia. Proove discovered that the DAT1 SNP is significantly associated with insomnia – key information that can help improve future understanding on the role of genetics in insomnia.
On Friday, March 27th, 2015, Proove also presented the ORI Study, Study to Comprehensively Calculate Risk of Aberrant Behavior to Opioids by Incorporating Genetic and Phenotypic Risk factors in Pain Patients. The ORI study uses a comprehensive scoring system which analyzes the genetic and phenotypic risks associated with an individual then determines the likelihood of the possible misuse, abuse, dependence, and addiction to opioids. The results of the ORI Study can be employed to reduce the amount of prescription opioid misuse and dependence.
"It touches my heart to be able to give patients and physicians answers that will help guide personalized treatment. When we know our genetics set us up for certain conditions or drug reactions it is not only comforting to know 'why' but also empowering to be able to compensate with healthy lifestyle interventions and safer drugs."
-- Maggie Hopkins, M.D., Clinical Science Liaison, Proove Biosciences
About Proove Biosciences
Our Mission is to Change the Future of Medicine. Proove is the proof to improve healthcare decisions. We seek to realize a future when clinicians look back and wonder how they could've ever prescribed medications without knowing how a patient would respond. With offices in Southern California and the Baltimore-Washington metropolitan area, the Company is the research leader investigating and publishing data on the genetics of personalized pain medicine with clinical research sites across the United States. Physicians use Proove Biosciences testing to improve outcomes – both safety and efficacy of medical treatment. From a simple cheek swab collected in the office, Proove performs proprietary genetic tests in its CLIA-certified laboratory to identify patients at risk for misuse of prescription pain medications and evaluate their metabolism of medications. For more information, please visit http://www.proove.com or call toll free 855-PROOVE-BIO (855-776-6832).