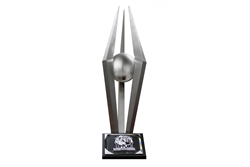 "This award is a testament to their diligence and continued commitment toward safety and excellence." Mark Danial, Executive Vice President of Manufacturing and Operations at Victaulic.
Easton, PA (PRWEB) March 31, 2015
On March 23, 2015, Victaulic, the leading global producer of mechanical pipe joining and fire protection systems, was named Top Plant by Plant Engineering magazine. Victaulic's Forks facility was recognized for its workplace safety, lean manufacturing capabilities, and facility excellence as well as its focus on quality and customer delivery performance.
"Every aspect of the manufacturing process at the Forks facility focuses on product quality and facility excellence," said Mark Danial, Executive Vice President of Manufacturing and Operations at Victaulic. "Our company and its employees take ownership of the safety programs they carry out on a daily basis. This award is a testament to their diligence and continued commitment toward safety and excellence."
The plant was recognized for its outstanding safety efforts; injury rates were down 87 percent in the last seven years. In addition, the Forks facility was honored for improvements made in customer lead-times as well as energy consumption within the plant, both of which were a result of leveraging lean principles.
"Continuous improvement is a priority for our operations team," said Christopher Misiak, Director of Manufacturing. "We compare ourselves to the best industries in the world. We set aggressive targets and goals to ensure we can exceed our customer's expectations." Plant Manager, Tim Martin agrees: "I am very proud of our employees as their ongoing support delivers high quality products for our customers."
The Forks plant is located on Victaulic's corporate campus—home of the company's global headquarters—in Easton, Pennsylvania. The facility includes a ductile iron foundry, machine shop and warehouse. Victaulic is completely vertically-integrated with all research, development, manufacturing and quality control being performed and managed by Victaulic. This facility hosts several hundred customers and visitors each year from around the world with a tour of the operations as a backdrop for each visit. The focus on quality, safety, and delivery at the Forks facility is consistent across all of the 14 manufacturing facilities around the world.
Plant Engineering recognized Victaulic along with Mississauga, Ontario-based Mother Parkers RealCup as Top Plants at the CFE Media awards dinner at the Chicago Park Hyatt Hotel on March 23, 2015. The Top Plant award program honors outstanding manufacturing facilities in North America. The entrants were judged on criteria such as safety, energy, maintenance and training management, as well as the measures and culture surrounding those practices within the facilities.
This award continues the spirit of innovation and pride at Victaulic. So far in 2015, Victaulic and its employees have been recognized with awards for safety, leadership and product innovation. The company was recently ranked first in the Large Employers category of the Lehigh Valley Morning Call's Top Workplaces 2015 awards program, and several new products have been named finalists in the Edison Awards and Consulting-Specifying Engineer magazine's Product of the Year awards.
About Victaulic
Since 1919, Victaulic has been the originator and world's leading producer of mechanical pipe joining solutions. Used in the most demanding markets, Victaulic innovative piping technologies and services put people to work faster while increasing safety, ensuring reliability and maximizing efficiency. The company has 14 manufacturing facilities and 29 branches worldwide with 3,600 employees who speak 43 languages across the globe. With over 1,900 global patents, Victaulic solutions are at work in more than 140 countries across diverse business lines including oil and gas, chemical, mining, power generation, water and wastewater treatment, military and marine, as well as commercial building and fire protection. For more information visit http://www.victaulic.com.
###