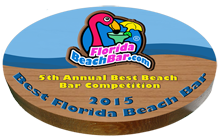 "This is our fifth year of competition," said John Sancin, FloridaBeachBar.com cofounder. "Over the past 5 years tens of thousands of site visitors have voted for their favorite beach bar."
Sarasota, Florida (PRWEB) April 02, 2015
Sarasota, Florida - FloridaBeachBar.com announced today the launch of the fifth annual Best Florida Beach Bar competition to determine the state's Top 10 beach bars for 2015. Visitors to the company's web site pick their favorite beach bar from a list of over 270 bars. After final votes are cast at midnight on April 30, results are combined with the company's bar ratings to produce the winners. FloridaBeachBar.com will reveal the top10-ranked beach bars and the best beach bar in Florida. Final Results will be published Tuesday, May 5th on FloridaBeachBar.com.
Each year competition is extremely intense with nearly every beach bar on the site receiving some of the thousands of votes cast annually. "This is our fifth year of Best Florida Beach Bar competition," said John Sancin, FloridaBeachBar.com cofounder. "Over the past 5 years tens of thousands of site visitors have voted for their favorite beach bar." John is also the author of "Traveling to Florida Beach Bars", a book that highlights Florida's best beach bars complete with behind the scenes stories.
The Top 10 beach bars are prominently listed on the web site home page and are awarded the coveted Top 10 Florida Beach Bar plaque. Awards are presented at an event held at each of the winning bars.
Founded in 2010, FloridaBeachBar.com is the top online directory of Florida beach bars featuring over 270 bars from all over the state. It includes beach bars that are on the beach or water and those beach bars that are just a short distance away. The initial list of beach bar sites was created by traveling the state in search of beach bars that met criteria established by FloridaBeachBar.com. The list is continually expanded based on recommendations from site visitors. Bars added to the site are personally visited by FloridaBeachBar.com, reviewed, and posted.
For more information visit the company's web site at floridabeachbar.com. Visitors can vote for their favorite beach bar at http://www.floridabeachbar.com/vote.