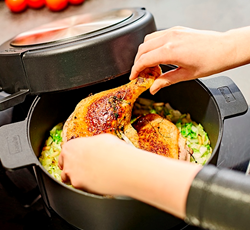 Lima, Ohio (PRWEB) March 31, 2015
Berndes Cookware USA is proud to announce the New professional cookware piece the B. Double. Berndes wins Design Plus award from the fair in Frankfurt for it's new B.Double Professional Set.
Berndes Cookware is tailored to different types of chefs, the classic cook or the professional. The professionally constructed cookware is to engage the ambitious chef to go above and beyond to enhance the cooking experience. B. Double offers multiple functions … like a small cookware set … to accommodate smaller kitchens or even RV's.
Enjoy the B. Double experience by embracing healthy cooking. The B. Double emphasizes on retaining flavors, vitamins and nutrients and roasting without using additional oils.
The B. Double is a multifunctional set comprising of a cooking pot, sauté casserole and glass lid with silicone seal. The B. Double gives you many functinal ways to use for cooking such as boiling, baking, braising and roasting. This multifunctional piece can be used together as a roasting dish or separate for casseroles and sautéing.
The B. Double is designed of high quality extremely durable materials such as cast aluminum. The induction-compatible base is constructed for rapid heating and optimal energy efficiency. 100% PFOA-free and reinforced with a 3-coat non-stick surface designed for low-fat cooking allowing for a easy cleaning. The B. Double's intuitive molded handles are fully oven-safe. Included is a glass lid with silicone seal to prevent rattling and protect the cookwares edges when storing as well as a matching pair of oven mitts. The B. Double is compatible with all range types including: Gas, electric, glass ceramic, halogen and induction. Available now with a Limited Lifetime Warranty under the Use and Care guidelines.
About Berndes
Berndes has developed produced and distributed cookware since 1921 and is the largest pan manufacturer in Germany, as well as the world-marketing leader in nonstick coating cookware made of cast aluminum. The high quality, award-winning range made of cast aluminum, spun aluminum and stainless steel is exported worldwide and has been distributed through qualified channels for decades.
With a marketing strategy that focuses on people with an affinity for cooking and appeals to the emotions, Berndes is set for success. As has always been the case, production is carried out at the company headquarters in Arnsberg, Germany. These processes only use materials that do not affect the environment, resources or health. The in-house test laboratory conducts continual quality controls accompanying production. Neutral test institutions both attest the company's high quality standards repeatedly domestically and abroad.