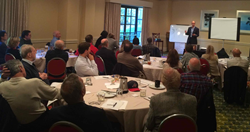 Rich DeVos, co-founder of Amway, on Forbes-500 List, Owner of NBA Orlando Magic says, "Too few wealthy people ask the bigger questions... I can highly recommend Barry Spencer's book."
Atlanta, Georgia (PRWEB) April 01, 2015
The 10,000 Americans reaching retirement age every day are facing stiff challenges to retire and stay retired. Today, there are over 44 million Americans over age 65.
In 1900, there were only a little over 3 million Americans over age 65. Today, the Census Bureau shows that 1 out of every 8 Americans is over age 65, numbering 44 million strong and increasing.
By 2030, 1 out of every 5 Americans will have celebrated their 65th birthday, with 10,000 Baby Boomers turning 65 every single day. Retired workers receiving Social Security benefits has more than tripled since 1970, from 13.3 million in 1970 to over 39 million in 2014.
Today's retirees face significant challenges and obstacles to enjoying the reward for a lifetime of hard work and sacrifice.
That is the subject of a new seminar briefing being held in Alpharetta at the Marriott Hotel. It is designed to educate and inform retirees and soon-to-be-retirees on the major mistakes and costly missteps that can derail a comfortable retirement lifestyle. The fast-paced 87-minute presentation explores the impact of 7 major retirement fears and concerns: living too long; running out of money; increasing tax burden; growing cost of living; expanding deficit; rising health care costs; and not passing on family values along with money.
One hundred years ago, the average American died at 51 years old. Today, the average American retires at age 62 and could live to age 100. In fact, the fastest growing segment of the U.S. population is those aged 100 and over.
Imagine being 75 years old, in great health, full of life and running out of money. AARP reported that 2 out of 3 older Americans fear running out of money more than death.
The fear of running out of money is not unfounded no matter how little or how much retirement money people have accumulated.
A recent CBSMarketWatch article, Our Next Big Crisis Will Be The Retirement Crisis, estimates that 1 out of 2 retirees are at risk of not being able to maintain their standard of living in retirement.
It gets worse, if you live a longer life. The Wall Street Journal article, Are You Ready For A Long Retirement, estimates that only 1 out of 3 retirees are financially prepared to live into their 90's.
For today's retirees, they will have to fund a lifestyle in retirement for almost as many years as they worked.
In addition, running afoul of IRS retirement account rules can cost a bundle.
The Wall Street Journal reported that, "Uncle Sam is about to get a lot tougher on individual retirement account mistakes, and that could trip up investors who aren't careful." The IRA levied over half a billion dollars in fines in just a two year period for missed withdrawals and contributions that break the rules.
This special briefing presentation is designed to be both informative and entertaining, using stories of famous and not-so-famous people to illustrate costly retirement and estate planning mistakes. It further outlines practical next steps people can take to protect their retirement wealth, including: three methods to increase your retirement "paycheck" and create an income you can't outlive; the most under-utilized tax benefits used by the ultra-wealthy that are now available to most people now; simple steps to reduce and even eliminate income taxes on IRA and other retirement money; how to legally bypass capital gains taxes on stocks, bonds and real estate assets; and the one thing everyone must do before taking social security benefits.
The latest information about the next special briefing designed for individuals with retirement accounts, business owners, executives, professionals, and millionaire retirees can be found at http://www.specialbriefing.com.