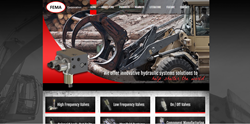 Portage, MI (PRWEB) April 02, 2015
FEMA Corporation rolled out a new user-friendly website design to meet ever-increasing demand for mobile optimization, in plenty of time to keep their rankings with Google's new algorithm release. Starting April 21, Google will launch a new ranking system, giving priority to those sites that are mobile-friendly. And now, FEMA Corporation is ahead of the game, offering full content and functionality across a variety of devices and retaining their spot leading the industry in design and development of hydraulic controls.
Key features of the new design include the ability to easily discover products and solutions that FEMA offers from high and low frequency valves to manifold systems and solenoid lock-out units. The new site also allows users to read about the different markets FEMA caters to, stay up-to-date with company news, search for jobs within the company, and download helpful documents such as troubleshooting guides and purchasing terms and conditions. Interested parties can fill out a form and request a quote directly from the website.
FEMA Corporation's new website, designed by Market Pipeline, adapts for all types of devices including tablets, cell phones, and internet TVs. The modern and user-friendly design helps emphasize the company's dedication to develop solutions in conjunction with today's technology. FEMA Corp. works with customers to make their systems successful by finding the right product match that achieves the level of performance and cost their customers require.
The site's refreshed look combined with enhanced content and mobile optimization allows consumers to better learn about the services and products that FEMA Corporation can offer. To take a look, go to http://www.fema-corp.com.
About FEMA Corporation
Located near Kalamazoo, MI, FEMA Corporation is a registered ISO 9001: 2008 company and industry leader in the design, manufacture, and performance testing of custom-engineered electro-hydraulic components. Applications include transmission control, autonomous braking, fan drives, active suspensions, fuel controls, actuators, and more in the markets of agriculture, military, mass transportation, mining, and others. Visit http://www.fema-corp.com for more information.
About Market Pipeline
Market Pipeline, in association with Blue Fire Media Group, develops profitable website solutions for industrial companies, offers industrial marketing, utilizes search engine optimization, and provides marketable content. Market Pipeline can help your company maintain a new user-friendly and mobile-optimized website, reach a global market and get found locally, analyze web analytics, and develop press releases. Visit http://www.marketpipeline.com for more information.