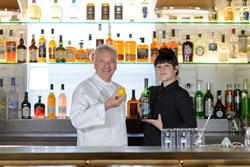 I am proud to be returning home to establish a restaurant that not only pays homage to my family's heritage but also recognizes the thriving world-class destination that Santa Fe itself has become. -Chef John Sedlar
Santa Fe, New Mexico (PRWEB) April 01, 2015
Acclaimed executive chef John Rivera Sedlar is delighted to announce his return to his native New Mexico to open his newest restaurant, ELOISA, located on Palace Avenue, one block from the historic Plaza, connected to the Drury Plaza Hotel. Now serving dinner and featuring a stunning bar with specialty cocktails, ELOISA presents an exquisite Latin and Southwest-inspired menu focusing on the delicacies of the Northern New Mexico region.
ELOISA, named after Sedlar's maternal grandmother (in whose kitchen he spent time as a boy growing up in Abiquiu, New Mexico), "pays homage not only to my own grandmother, but all the abuelas, senoras, tias and the hermanas in the kitchen." This is the motivation behind Eloisa's intentionally feminine design aesthetic, reflected in the shape of the food on the plates, the round, earthy table settings, the choice of a female mixologist and the timeless metropolitan-inspired interiors by local designer Laura Carpenter. Additionally, a tasting menu created in honor of Georgia O'Keeffe will be served, a nod to Sedlar's great-aunt who cooked for the artist for 14 years.
"I am excited about coming back home to my New Mexican roots," said Sedlar. "The flavors of Northern New Mexico have had a wonderful impact on my culinary career and I look forward to bringing a fresh perspective to New Mexican cuisine."
Carpenter has created a soft, neutral interior that preserves the building's original 1950s masonry while introducing modern details and uniquely architectural flatware by Italian designer Gio Ponti. Sedlar describes the restaurant as "a beautiful palate where guests look great and the food pops."
ELOISA's menu combines small plates served tapas style, (8-$13) and larger plates (18-$31)— all of which can be shared. Many of chef Sedlar's grandmother's recipes will be recreated, notably her Northern New Mexican lamb dishes, empanadillas and biscochitos as well as a number of dishes focused on the apricot, the tree of Abiquiu. Upon entry, guests will be greeted by a traditional tortilla maker engaged in grinding masa into flour, rolling dough and pressing fresh edible flowers like petunias, rose petals and nasturtiums into the tortilla to create tortillas decoradas. The prominently featured, state of the art kitchen, finished with granite, marble and white subway tiles will invite guests to watch Sedlar and his team create exotic dishes that juxtapose precise French cooking techniques with fresh interpretations of Meso-American classics like carne adovada.
ELOISA's dining room seats 120 guests inside (including the bar) with an additional 65 seats on the patio, which will open mid-May. Expect an exciting wine list prepared by General Manager Walter Gallegos, formerly of The Compound, and refreshing, delicious cocktails served by mixologist Dede Roybal. Lunch will be served 30 days after the opening, and breakfast will eventually be served as well. Bar Alta, on the Drury Plaza Santa Fe's rooftop, is also Sedlar's domain and will have a casual dining menu and a full bar with specialty cocktails.
"I am proud," says Chef John Rivera Sedlar, "to be returning home to establish a restaurant that not only pays homage to my family's heritage but also recognizes the thriving world-class destination that Santa Fe itself has become."
For media inquiries, contact:
Audrey Nadia Rubinstein
505 490 1837
audrey(@)jlhmedia(.)com
###
ABOUT ELOISA:
ELOISA, Chef John Sedlar's newest restaurant, opens in Santa Fe. The menu marries Latin and Southwestern flavors with regionally specific Northern New Mexican classics. Preparations feature premium, locally sourced ingredients and tasting menus that explore Latin history and local culture. Refreshing cocktails served by mixologist Dede Roybal compliment ELOISA's earthy, nourishing menu. ELOISA's warm, inviting design is a place to dine with friends and family.
ABOUT CHEF JOHN RIVERA SEDLAR:
Critically acclaimed New Mexican born chef, John Rivera Sedlar returns to his New Mexican roots to open ELOISA in Santa Fe. Chef Sedlar is known for his revered Los Angeles-based restaurants Playa and Rivera. After closing at the end of 2014, Rivera will open again in a larger space in West LA. Sedlar is a Latin American food scholar and master chef who has been featured on Bravo television's Master Chef and was named Chef of the Year by Esquire Magazine; additionally, Sedlar wrote the seminal Southwestern cookbook, " A Guide to Modern Southwest Cooking."