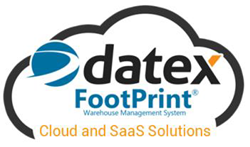 Clearwater, FL (PRWEB) March 31, 2015
Award winning supply chain software developer Datex recently launched SaaS and Cloud solution offerings for warehouse management software solutions across Latin America. As part of its commitment to helping to spread its latest innovative Microsoft-based supply chain software, Datex offers a variety of options including on premise, SaaS and cloud software delivery models.
WMS clients use the virtual Cloud environment to allow software users to access their instance of the warehouse management software from anywhere and on many types of devices. The system helps to provide users with decreased system downtime, regular upgrades and backups, and added services such as vendor managed disaster recovery solutions. Datex FootPrint WMS browser based editions range in size and complexity to fit a variety of business needs and requirements. For additional flexibility, the Flex Cloud Edition also provides options for data ownership that allows clients the option to purchase software licenses.
The Datex Flex Cloud Enterprise Edition is a highly secure, robust cloud edition with top level flexibility using workflows and provides the ability to customize reporting. This cloud edition of the software includes advanced system functionality, greater data redundancy, disaster recovery, full change/control rights, heightened security protocols and a dedicated server for businesses that require increased safekeeping of data. Developed for multi-site complex operations, the Flex Cloud Enterprise Edition is ideal for global enterprises operating in multiple time zones.
"Datex WMS cloud based software can help warehouses, manufacturers, distributors and third party logistics providers compete more successfully, improve order fulfillment and bring products to market faster" explained Fernando Gonzalez, Vice President of Business Development for Latin America. "We already see it as a game changer in the LATAM market".
About Datex
Datex provides flexible, reliable warehouse management and supply chain software solutions to help make businesses more profitable. In successful operation since 1978, Datex has helped companies operate more efficiently and productively using state-of-the-art Microsoft based technology. Known for developing highly flexible workflow based warehouse management software, Datex FootPrint WMS is in use by 3PLs, cold storage, warehousing and distribution operations, pharmaceutical, non-profit organizations and manufacturers across the world including Latin America. For more information, please visit the Datex website http://www.datexcorp.com/.
To learn more, please contact Laura Olson, Director of Sales and Marketing at 800.933.2839 ext. 243 or via email at lolson@datexcorp.com.
###