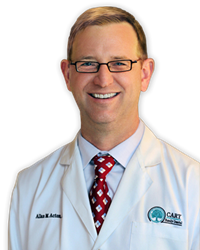 Cary, NC (PRWEB) March 31, 2015
Cary Family Dental's Dr. Allan Acton attended the Pikos Institute Seminar: Guided Full Arch Immediate Implant Reconstruction (Same Day Teeth®): A Comparison to All-on-4® held March 26-28 in Trinity, FL. The course provided instructional and hands-on opportunities for learning along with a live surgical viewing with respect to the Same Day Teeth® dental implant protocol.
Adult tooth loss is a nationwide problem that results from several factors, including periodontal disease, accident or injury, or severe tooth decay. Regardless of the cause, however, dentists recommend that missing teeth be replaced as soon as possible to avoid the risk of further dental issues. Dental implants have become the preferred method of replacing missing teeth in adults, as these implements provide long term stability, unparalleled function, and a natural appearance unlike any other tooth replacement option currently available. The versatility of dental implants also lends itself to further support of this highly regarded method of replacing teeth, as anywhere from a single tooth to an entire arch of teeth can be replaced with implants.
Patients of Dr. Acton that are currently missing all of their teeth can benefit from his knowledge of and experience with Same Day Teeth®, which is a dental implant system that delivers immediate full arch reconstruction with the integration of a permanent hybrid or bridge supported by dental implants. Through the advent of technology, dental implants are evolving, offering patients a fully guided, digital approach to full arch tooth replacement in the Same Day Teeth® technique.
Those who are interested in tooth replacement with dental implants are encouraged to contact Dr. Acton's office in Cary, NC to schedule a personalized consultation, or visit his website for additional information.
About the Doctor
Dr. Allan Acton opened Cary Family Dental in 2003 and is proud to serve as an accomplished dentist in the Cary, NC area. Dr. Acton received his degree from Virginia Commonwealth Dental School and has additional training in dental implants from the Triangle Dental Institute in Durham. Dr. Acton is a Fellow with the International Congress of Oral Implantologists and is a member of the American Dental Association, Academy of General Dentistry and many others. To learn more about the dental services Dr. Acton offers, please visit his website at http://www.carydental.com or call 919-374-3880.