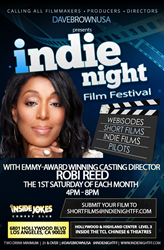 I've previously participated in INDIE NIGHT as a special guest, and immediately understood its relevance as a reputable launching platform within the TV/Film professional community - Robbi Reed
Los Angeles, CA (PRWEB) April 01, 2015
INDIE NIGHT Film Festival raises the stakes for participants, and the TV/Film professional community at large with the launch of its new partnership with celebrated casting director Robi Reed. Through their partnership, the brands will produce a special edition of the weekly film festival on the first Saturday of each month. Geared at scouting new talent and productions, as well as incorporating additional notable industry professionals to speak to the audience about their craft, the first installment of this new endeavor is scheduled for Saturday April 4, 2015. As the buzz surrounding INDIE NIGHT continues to grow, this new partnership is poised to create new opportunities for countless talented actors.
Now in its third season as Hollywood's only weekly independent film festival series, INDIE NIGHT is proving to be the entertainment capital's best kept secret. What initially began as a pet project for an industry insider Dave Brown, has rapidly grown into a must attend event for the professional entertainment community and film lovers alike. Created to serve as both a talent incubator and platform, INDIE NIGHT continues to showcase the artistic and enterprising spirit of independent cinema. Held every Saturday from 4PM – 8PM at Inside Jokes, within the historic TCL Chinese Theatre, INDIE NIGHT has become the ultimate networking hub for the television and film community, as well as a go-to platform to premiere everything from independent feature films to television pilots, web series and trailers. Celebrities such as John Singleton, Tisha Campbell Martin, Vanessa Williams, and Morris Chestnut, have all enthusiastically hosted or attended the event. Projects including Steven Caple's "A Different Tree" (Winner of HBO Best Short), 39th Annual Student Academy Awards Winner Nicki Michaeux's "Narcocorrido", Marcus Dupree's "Junior", Ka'ramuu Kush's "Salvation Road " and reality star Tami Roman's "Sunday's at Noon " have all screened at the popular event.
It only takes one visit to INDIE NIGHT to identify its significance. "I've previously participated in INDIE NIGHT as a special guest, and immediately understood its relevance as a reputable launching platform within the TV/Film professional community" Reed expresses. This partnership with Reed reaffirms INDIE NIGHT's primary mission, connecting people. "Our goal is for this to become the ultimate dot-connecting experience, especially for the indie community" states Dave Brown. "Relationships are key in this industry. When we created this event, fostering an atmosphere where producers, actors, directors, writers, casting directors, agents, distributors, film school students and studio executives could network, and exchange ideas was extremely important to us," Eriq LaSalle, Co-Chair of the INDIE NIGHT advisory board, expounds.
Season 3 of INDIE NIGHT Film Festival launched January 10, 2015. For additional information about INDIE NIGHT, as well as details on how to participate and/or screen your project visit http://indienightfilmfestival.com. Stay connected to INDIE NIGHT via Twitter @INDIENIGHTFF, Facebook https://www.facebook.com/indienightff, and Instagram @INDIENIGHTFF for the latest news and updates.