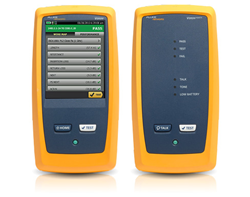 By certifying their cable, businesses save time and money, and reduce waste.
Waukesha, WI (PRWEB) March 31, 2015
Up to 25% of network cabling currently in use does not meet industry standards. This has been the experience of the certified cabling technicians at TriTech Corporation of America, who have been helping Wisconsin businesses meet their cabling needs for over two decades.
TriTech has expanded their cabling services by adding the new Fluke DSX-5000 CableAnalyzer, which enables quick and accurate analysis of cabling systems.
As more and more businesses rely upon networking, the infrastructure behind networks is being put to the test.
For example, many companies are abandoning analog phone systems in favor of VoIP (voice over internet protocol) phone networks. Proponents of VoIP emphasize its benefits, such as eliminating long distance charges. However, VoIP is a time sensitive technology that uses the same infrastructure as the computers and other devices in a business' network.
If the cables that are handling all this traffic were poorly installed or are out-of-date, business could suffer.
Cable certification ensures that the cabling infrastructure used in a network, including copper and fiber optic cables, meets current industry standards.
To become certified, cabling must pass a series of rigorous tests. These tests include a Wiremap test, which identifies phyical errors in the cable installation, and a Delay Skew test, which determines the difference between the fastest and slowest cables.
Such tests allow a trained technician to either certify that the system is in optimal condition or pinpoint problems that need to be addressed.
Cable can be certified when it is installed, for example, through structured cabling designed to meet the precise specifications of an individual project, while ensuring compliance with industry standards.
Existing cable can also be certified. When certifying existing cable, technicians not only ensure compliance with industry standards, but they also prevent network outages by identifying and fixing problems before failure. They can also discover more efficient cabling paths, allowing companies to take advantage of advances in technology. They can increase speed, add equipment or expand services, while keeping existing cable.
Certification increases the speed of a network by reducing latency. The speed of a network is composed of its bandwidth—its total capacity for connection—and its latency—the delays that hinder connection. Network standards are designed to minimize latency so more bandwidth can be used.
By certifying their cable, businesses save time and money, and reduce waste.
To better serve Wisconsin businesses, TriTech Corporation has added the gold-standard in network cabling certification instruments: the Fluke DSX-5000 CableAnalyzer.
This network tester provides pass or fail information in accordance with the strictest network standards in use today. The DSX-5000 is the first cable tester to obtain ETL Verification to IEC draft Level V accuracy. ETL Verification is a third-party verification program that detemines whether or not equipment lives up to the manufacturer's claims. The DSX-5000 does.
The DSX-5000 tests all current standards of copper cable, including Category 6A and Class FA. It also tests all current standards of fiber optic cable, including both 62.5 and 50 micron fiber.
It does all this at unmatched speed while tracking progress, ensuring that the job is done right.
By offering cutting-edge technology, TriTech Corporation is enhancing the quality service that Wisconsin businesses have trusted for over two decades. TriTech Corporation certifies and warranties all their cable installations for 15 years.
Contact TriTech by phone: (262) 717-0037 or email: service(at)tritech(dot)com to learn more. Visit TriTech's website to learn more about their whole portfolio of integrated IT solutions.
About TriTech Corporation:
TriTech Corporation is Wisconsin's source for integrated information technology services. Founded in 1993, we focus on helping local businesses increase productivity and reduce expenses through using the right technology. Our certified technicians bring years of experience and proven accountability to every project. We believe that providing integrated services is the best way to save you time and money. It's simple and stress free. We take the guesswork out of IT, because we do it all.