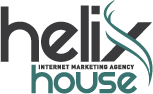 Phoenix, AZ (PRWEB) March 31, 2015
Helix House, a results-driven Internet marketing agency with years of experience in the industry announces record demand for retail outlet search engine optimization related services. From social media marketing to traditional search engine optimization as well as wide range of Internet marketing related services, Helix House offers comprehensive services for businesses looking to achieve better online exposure. From establishing a brand to advancing an existing brand, Helix House has helped countless businesses over the years achieve their goals and objectives with regard to gaining better market share and in outperforming the competition. From full-scale web development to email marketing and text message marketing as well as pay per click advertising and video production, Helix House consistently exceeds the expectations of clients.
With a long list of accolades and industry recognition, Helix House is a company that consistently commands the respect of other Internet marketing firms. In addition, the company is known for providing dedicated personal account representatives for each and every business that chooses to work with this aggressive and smart Internet marketing firm. Helix House knows the importance of providing businesses dedicated personal account reps and even ensures that each client has an agent's direct cell phone number, office line and email contact. This insures the clients are always in the loop with regard to the Internet marketing efforts that are being undertaken with regard to their website and their business. Few other Internet marketing agencies in the business can come close when it comes to a dedication to customer service and total customer satisfaction.
Retail outlets have increasingly discovered the value of modern Internet marketing as compared to traditional marketing and advertising outlets like newspapers and TV. As such, these businesses are depending upon experienced Internet marketing firms to achieve impressive results in terms of improved business performance. In addition, Helix House provides direct feedback to customers with regard to their Internet marketing efforts. This helps businesses know what is happening with their marketing efforts at all times. It also helps to show businesses how visibility is growing online over time. Heat maps and call tracking as well as a number of other important metrics are provided so that retail outlets can carefully monitor the development of their Internet marketing campaign.
Helix House provides modern up-to-date and accurate Internet marketing services for retail outlets as well as medical professionals, legal professionals, and a host of other businesses, industry and manufacturing businesses that desire access to the latest in modern online marketing services. This trusted name in Internet marketing continues to grow in scope providing more businesses with greater options when it comes to Internet marketing. From search engine optimization to social media management and email marketing as well as traditional web development, Helix House is the company to watch in the coming years. This recent announcement with regard to record demand for retail outlets search engine optimization related services provides further insight into the growing demand for effective and results driven Internet marketing related services.
Helix House is a highly innovative forward-looking Internet marketing agency located in sunny Arizona and beautiful New Mexico. The company has consistently exceeded industry expectations to routinely rank highest among some the best Internet marketing companies in the country. Recognized as an industry leader, this Internet marketing firm has helped hundreds of businesses across the country to gain better online ranking, online exposure and overall recognition. Helix House outpaces the competition year after year by leveraging the latest Internet technology, ideas and concepts to deliver extraordinary results for businesses large and small.