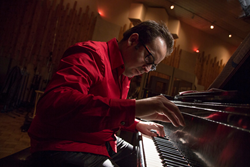 Fort Lauderdale, FL (PRWEB) March 31, 2015
South Florida's premier modern jazz organization is thrilled to present Manuel Valera & New Cuban Express on Saturday, April 11, 2015, 8:00 PM. This concert will take place at the Rose and Alfred Miniaci Performing Arts Center on the Nova Southeastern University campus, 3100 Ray Ferrero, Jr Blvd, Davie 33314. Tickets are $40 ($15 for students) and can be purchased from the Ticketmaster box office by calling 954.462.0222; or online at southfloridajazz.org. I is probable that very good tickets will be available at will-call the night of the show, along with free parking.
Manuel Valera & New Cuban Express
Havana-born pianist Manuel Valera is in the line of Cuban virtuoso pianists at the vanguard of contemporary jazz, but he represents a newer generation of performer-composers. His technique is flawless and his sound is fresh as he plays with elegance shaping his high-energy and flowing musical motifs. His composing and playing are not stereotypically Afro-Cuban. He constantly explores pan-Latin rhythmic folkloric forms, post-bop and modern jazz styles infused with classical romanticism and even some funk to develop a cerebral, culturally resonant style that he refers to as "modern Latin fusion."
The son of a Cuban alto saxophonist, Manuel studied elementary-level classical saxophone in Havana's Conservatory Manuel Saumell, where pianists Chucho Valdez and Gonzalo Rubalcaba began their educations. He immigrated to the United States in 1994, switched to the piano, ultimately earning a degree from The New School University for Jazz & Contemporary Music in Manhattan. Manuel rapidly became recognized in high-profile jazz circles with early professional experiences playing and touring with Paquito D' Rivera, Arturo Sandoval, Steve Turre, Claudio Roditi, the Machito Orchestra, and the Jazz at Lincoln Center Orchestra, prior to focusing on his own band. The latest iteration of Manuel's vision is the New Cuban Express band. The eponymously named recording was nominated for a Latin Jazz Grammy in 2013. On the heels of Expectivas comes In Motion, further reflecting on how this fusion band defies labels while creating an innovative experience not only of discerning jazz aficionados but with audiences of all types.
The personnel on the SFJ date is electrifying. Yosvany Terry, the most harmonically advanced, cerebral saxophonist to leave Cuba since Paquito D'Rivera, is on the front line and percussionist Mauricio Herrera continues to ignite the rhythm as only he can do. Bassist Armando Gola, known to the SFJ via appearances with Eldar's trio and Ignacio Berroa's quartet, teams with Cuba's greatest drummer, Horacio "El Negro" Hernandez, guaranteeing a continuous burn in the rhythm section with a clave-based fierce punch and crisp snap that are unique to El Negro's grooves.
Valera is a flourishing young pianist-composer, whose talent and creative drive is making a unique mark in the bloodlines of the Afro-Cuban Jazz tradition. Those who share the bandstand with him are well aware that they are working with a master in the making.
Artistic Personnel:
Manuel Valera – piano and Fender Rhodes
Yosvany Terry – alto and soprano saxophones
Armano Gola – electric bass guitar
Horacio "El Negro" Hernandez – drums
Mauricio Herrera – percussion
This concert is being underwritten in part by a donation from South Florida Jazz members Michele and Richard Cabrera.
Funding for this organization is provided in part by the Broward County Board of County Commissioners
as recommended by the Broward Cultural Council.