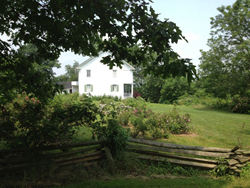 New to Spring Into History 2015 is the Monterey Pass Battlefield Museum, exhibiting artifacts of the Battle of Monterey Pass.
(PRWEB) March 31, 2015
On April 18, Franklin County springs into history with its third annual history ramble, appropriately named Spring Into History. All sites are free and open to the public from 10 AM to 4 PM. As a ramble, visitors can enter the route at whatever point is most convenient. The twenty sites are oriented from southern Franklin County, starting in Mercersburg and moving through Fort Loudon, Chambersburg, Greencastle, Waynesboro, South Mountain and Mont Alto.
Traverse centuries of American heritage and culture in the Franklin County history ramble. Take in Native American artifacts, explore the history and culture of the frontier and colonial America, secret passages of the Underground Railroad, raids and invasions of the Civil War, and centuries of American military history. See architectural and archaeological history. Discover the foundation of 20th-century forestry conservation. Understand the importance of firefighting history and turn-of-the-twentieth century evolution of industry.
New to Spring Into History 2015 is the Monterey Pass Battlefield Museum, exhibiting artifacts of the Battle of Monterey Pass, which was fought on the retreat from the Battle of Gettysburg in four counties and two states in a raging thunderstorm. The museum interprets the Pennsylvania Campaign of 1863, and the American Civil War as it relates to Franklin County PA and encourage audiences to examine the past and its relationship to a shared future.
Take in the Mont Alto Historical Society. Find out about the Underground Railroad and the escaping enslaved, traveling toward freedom in south central Pennsylvania through an area known as Ground Zero. View Road to Freedom: Underground Railroad Of South Mountain, highlighting the escape routes and sites, which are part of the National Park Service Network to Freedom. More Underground Railroad history surfaces at Allison Antrim Museum in Greencastle where an authentic slave collar interprets the story of a slave called Ben. The special 2015 Allison-Antrim exhibit interprets the impact of mourning on daily life in the Victorian era and allows visitors to step back in time to understand with greater clarity the lives of Victorian ancestors.
For descriptions of all sites, download the self-guided tour booklet with site descriptions and directions at http://www.DoDineStayFranklinCountyPA.com/spring. Spring Into History is a gateway to exploring Franklin County.
The Franklin County Visitors Bureau invites all to explore Franklin County PA and enjoy the trails of history, arts, recreation, natural beauty, fresh foods and the warm hospitality of communities like Chambersburg, Greencastle, Mercersburg, Shippensburg, and Waynesboro. Franklin County PA is located just north of the Mason Dixon Line and is an easy drive to Washington DC, Philadelphia, and Pittsburgh. Discover more....plan your visit at ExploreFranklinCountyPA.com or by contacting 866.646.8060.