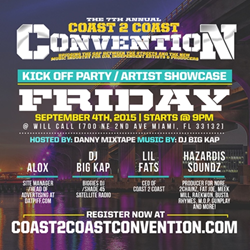 Miami, FL (PRWEB) March 31, 2015
Coast 2 Coast Mixtapes & Coast 2 Coast LIVE are proud to announce that artist submissions are now open for all showcases during the 7th Annual Coast 2 Coast Music Industry Convention! The event will span 4 days on Labor Day Weekend in Miami, FL 2015 and feature panels from experts in the music industry, parties, VIP yacht party and artist showcases! Artists can register now for a general pass at Coast2CoastConvention.com or submit for one of the artist showcases below!
Artists in the showcases will perform in front of hundreds of DJs and music industry professionals, receive detailed feedback from a star studded judge panel, and have a chance to win a huge prize package from Coast 2 Coast and their sponsors! Each performance package will also include other perks such as passes for the convention, access to VIP gift bags and access to Coast 2 Coast's VIP listening suite to play their singles for major label A&Rs.
To perform at Coast 2 Coast Music Industry Convention 2015 please click one of the links below to sign up and submit music now! Once Coast 2 Coast reviews submissions, artists will receive email feedback with details on the pricing of each package and performance details.
Coast 2 Coast Convention Kick-Off Party - Artist Showcase
Performance Includes:
1 Song Performance for Judges
1 Regular Pass to Coast 2 Coast Convention ($150 Value)
20 General Admission Tickets to Kick Off Party to Sell/Give Away ($400 Value)
Guest Judges:
Dj Big Kap @BigKapTheWardin - Dj for Notorious BIG, Funkmaster Flex, Shade45 & More
A-Lox @AloxDatpiff – Site Manager/Head of Advertising for Datpiff.com and Hiphopearly.com
Hazardis Soundz @Hazardissoundz – Producer for Noreaga, 2Chainz, Fat Joe, Meek Mill, Raekwon, Busta Rhymes, M.O.P., Gunplay and More.
Winning Prize Package: http://c2c.fm/a7LMq
Main Event Artist Showcase Day 1:
Coast 2 Coast Convention Main Event Artist Showcase
Performance Includes:
1 Song Featured Performance at Coast 2 Coast LIVE Kick Off Party
1 Song Performance at Coast 2 Coast Convention Main Event for Judges
Access to Private Listening Suite with Convention Panelists to Provide Feedback on Single
Sponsor Table in Convention Sponsor Room
Logo on Website as Official Artist/Label Sponsor
Picture/Bio/Links Listed on Website as Official Artist
Access to Place Product in VIP Gift Bags
2 VIP Passes to Coast 2 Coast Convention ($700 Value)
Guest Judges:
Tony G @TonyGNYC – A&R at G-Unit Records
Rockwilder @RockEnoch13 – Grammy Winning Producer for Jay Z, Janet Jackson, Destiny's Child, Christina Aguilera, Missy Elliot, Method Man, Redman and many more.
Yaasiel 'Success' Davis @SuccessREADY – A&R at Atlantic Records
Winning Prize Package: $10,000+ in Promotion
Click Here to Perform at Coast 2 Coast Convention Main Event Artist Showcase 9/5/15 & 9/6/15