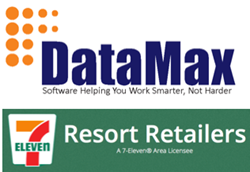 Since implementing the system, we have seen better accuracy, better tracking, better efficiency and better profit!
Round Rock, TX (PRWEB) April 06, 2015
Resort Retailers, a North American licensee of 7-Eleven, Inc., located in Park City, Utah, has recently completed its roll out of DataMax's Envoy Cloud back office software. The implementation has streamlined their operations and greatly increased profits for their 18 stores in a short timespan.
Since the implementation of Envoy Cloud, Resort Retailers has been monitoring and analyzing their profits and growth. William Ohm, Category Manager for Resort Retailers, stated, "The DataMax team has been with us every step of the way. Since implementing the system, we have seen better accuracy, better tracking, better efficiency and better profit!"
William shared a few key areas where Envoy Cloud has helped Resort Retailers improve:
•Profit Increase - Store profits are up double digits, over 18%, from last year.
•Internalized Accounting - Resort Retailers was previously paying over $100,000 a year to outsource accounting. By having Envoy directly integrate with their accounting system, Resort Retailers was able to save over $100,000 per year.
•Retail Pricing Accuracy - Not only does Envoy have the ability to scan items correctly, but manages promotions with ease and control costs on an item-level.
•Transactional Data – Resort Retailers enjoys their ability to have granular data available to mine at any time through a variety of different reporting tools.
•Vendor Accountability – Envoy holds vendors accountable for dead items/stock, cost increases, and product mixes.
•Transaction Efficiency –There are now shorter lines and faster customer service due to the enhanced scanning capabilities.
•Custom Shelf Tag Labels – Resort Retailers found the ability to design/edit their own custom labels very helpful due to their widely dispersed stores and varied label print stock.
•Customer Support –Resort Retailers has referred to DataMax's support team as "incredible" and notes the short response time and due diligence.
About DataMax
For over 20 years DataMax Group, Inc. has focused on providing innovative and comprehensive back office software solutions and support services to the convenience retailing and petroleum industries. With over 28,000 sites installed in over 50 countries, DataMax has proven to create the best ROI for convenience store owners. DataMax has offices in Round Rock, Texas; Montreal, Canada; Bangkok, Thailand; and Silsoe, United Kingdom. To learn more about DataMax or request a software demo, visit http://www.DataMaxGroup.com or contact DataMax sales at +1 (512) 246-4022 or sales@datamaxgroup.com.