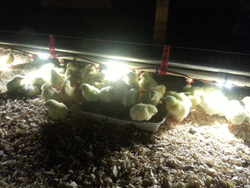 "Our new AviLighting™ LED Water Lights offer an extremely cost-effective and easy-to-install method for correcting water consumption issues, especially at hatch to 2-days of age," says Dr. James L. McNaughton, president & CEO of AHPharma.
(PRWEB) April 06, 2015
AHPharma, Inc., a leading manufacturer and designer of services and products for the food animal industry, and i-lighting™, the leading manufacturer of the proprietary LED Lighting Simplified connection technology, have introduced a new series of high-intensity AviLighting™ LED Water Lights designed to enhance the consumption of water by modern-day poultry, especially during the first week of life.
"Oftentimes, we just expect chickens to know what to do," says Dr. James L. McNaughton, president & CEO of AHPharma. "Research has shown that lights placed over the feeder, in conjunction with drinker LED strip-lights, will significantly improve both feed and water consumption. This is essential for reaching the bird's genetic potential and overcoming possible body weight issues that can persist throughout the entire life cycle.
"Our new AviLighting™ LED Water Lights offer an extremely cost-effective and easy-to-install method for correcting water consumption issues, especially at hatch to 2-days of age, as well as improving continued water nipple use and the ability for birds to 'teach' their counterparts and cause the flock to imprint to this positive behavior."
Throughout the years, AHPharma Energy Systems, Inc. has conducted extensive research to determine the effect of light intensity on "bird attraction" at both feeding and watering areas (both separate and together). This research to date indicates that >8 fc of light at the feeder, with less light toward water nipples, attracts the majority of birds to feed troughs, not the water nipple areas. To correct this initial water consumption issue, the company has found that LED strip-lights employed directly next to water nipples will inexpensively yield a highly significant >90% bird presence around this area during the first 24 hours post placement.
The new high-intensity, AviLighting™ LED Water Lights are available in strips for easy installation above water nipples. In addition, each washable LED light strip consumes 1.2W compared to >8W for standard ceiling LEDs, >23W for CFLs and >60W for incandescent bulbs.
With this introduction, the AviLighting product line now includes a complete series of drinker, control pan, feeder, layer/cage and backyard flock water feeding systems operating at 24 volts to increase the intensity of the systems and the ability to consistently deliver biologically-humane LED lighting to poultry according to animal welfare humane requirements. These products are also available with dimmable solutions and complete lighting solutions (avilighting.com) providing all the components needed to easily install 300 to 600 ft. AviLighting systems operating with two to three feeder lines.
The new AviLighting LED lighting system was co-engineered by i-lighting and AHPharma to meet the commercial live production lighting needs of areas related to bird migration/attraction and the brooding of chickens, turkeys and other poultry. Powered by a 24 Volt DC controller with solar & back-up power compatibility, the AviLighting System can lower energy costs by 86% to 96% when compared to the use of incandescent or cold-cathode lighting and by 50 percent over other ceiling socket-driven LEDs that meet poultry industry lighting requirements. Other benefits include:

Longevity: guaranteed for 5 years (diodes rated at 100,000+ hours)
Simplicity: installation is intuitive, simple, and can be completed in a day
Scalability: new units can be placed on the line to immediately emit as much light as necessary
Dimmable: wireless remote controls give the operator wireless dimming power for each line of lights
Industry standards: Only light source that meets the mandated min consistent 4 fc requirement at feed/water and minimizes "starve-outs of lost birds"
Minimal wiring required: The system operates off low-voltage currents that are sent down the shock cable and auger line to provide wireless energy transfer
For more information on the complete line of AviLighting products please visit http://www.avilighting.com or call (443) 260-2499.
About i-lighting™
i-lighting™ was founded to provide easy-to-install, cost-effective and extremely reliable interior and exterior lighting solutions to home owners, contractors and builders. Since 2005, the company has developed and sold thousands of custom-designed Deck, Stair and Landscape Systems to building and maintenance professionals as well as home owners and do-it-yourselfers. For more information please visit http://www.i-lightingonline.com or call 888-305-4232.
About AHPharma, Inc.
Founded in 2006, AHPharma, Inc. manufactures and designs products that bring cost and energy savings to the agriculture and food safety industry. With a combined more than 40 years of experience in the private research area, AHPharma, Inc. has extensive knowledge of conducting quality private research for the food animal industry, including broilers, layers, turkeys, and swine.
# # # #