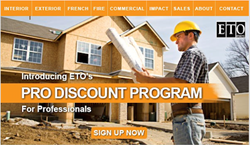 ...faster and more convenient door purchasing ...
LOS ANGELES, Cal. (PRWEB) April 01, 2015
ETO Doors now offers licensed designers, architects, and contractors the opportunity to take advantage of lower pricing, shorter lead times, and personalized service by joining the company's new Pro Discount Program. This membership program provides construction and design professionals with a faster and more convenient door purchasing experience, along with significant financial savings; professionals who join the Pro Discount Program can take 15 percent off the price of all stock doors from ETO Doors, and they also receive priority on clearance item orders. Together, these perks should enable program members to deliver more affordable and fitting products to their clients; additionally, as part of the Pro Discount Program, members can receive responsive, personalized service and some of the fastest lead times available in the industry. Contractors, designers, and architects who are interested in joining this program can contact ETO Doors for additional information about the program structure or the application process.
ETO Doors provides construction and design professionals with the most extensive selection of high-end doors in the industry, with more than 40,000 doors in stock; clients can choose from exterior, interior, and garage doors, along with sidelights, transoms, jambs, and other accessories. ETO Doors carries a variety of popular styles, including rustic, Mediterranean, French, Dutch, and traditional, which are available in various materials, including wood, fiberglass, steel, metal, and aluminum; ETO Doors also creates customized doors, though these are not eligible for savings through the Pro Discount Program. All doors are tested for various ratings, including energy, acoustic, and fire ratings, to ensure quality and client satisfaction. Even though ETO Doors offers top-quality doors, customers can expect affordable pricing, which is backed with a lowest price guarantee; if buyers find a lower online door or shipping price within 30 days of making a purchase from ETO Doors, the company will refund the difference or 15 percent of the original purchase price. With the new Pro Discount Program, ETO Doors makes it even easier for professionals to be confident in receiving the best deals on every door order.
About ETO Doors
Since its foundation in 2002, ETO Doors has provided customers with a wide selection of affordable but high-quality doors that are available in minimal time. The company sells residential and commercial doors online and lets clients directly view these products at three showrooms, which are located in Las Vegas, New York City, and Los Angeles, where ETO Doors is headquartered. To learn more about ETO Doors or browse the available products, please visit http://www.etodoors.com.