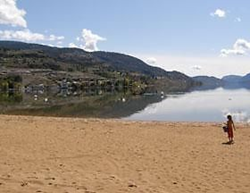 Businesses helping businesses is always a win-win. We have a fantastic project on the edge of Skaha Lake that, like Enocre, is also a hidden gem. We want to promote growth to the Okanagan Valley as a healthy economy; making for a better community
Penticton, British Columbia (PRWEB) April 30, 2015
With the sunny summer months quickly approaching, thoughts are turning to making plans for vacations, road trips and taking advantage of the heat. This will often lead people to the beautiful Okanagan Valley and the bounty of wineries in that area. While most will simply visit a winery, there may now be the opportunity to attend events at Skaha Breeze condominiums to learn how to become a part owner in a winery.
Encore Winery currently owns or has exclusive licensing agreements with TIME Estate winery, McWatters Collection and Sundial Vineyards. This company has many award winning wines and with Harry McWatters, a 46 year veteran of the thriving BC wine industry, at the helm, the expectation of its continued popularity is imminent. The 2007 Red Meritage from the McWatters collection was released in 2011 and was an overnight success and now has a cult like following amongst the wine connoisseur elite.
Steve Brown, the owner of Skaha Breeze, and its resident sales manager, Eric Speijer, both believe strongly in Penticton's economic growth and prosperity. This is what made the decision to hold the events on their stunning lake view rooftop terrace such an easy decision. "Businesses helping businesses is always a win-win. We have a fantastic project on the edge of Skaha Lake that, like Encore, is also a hidden gem. We want to promote growth to the Okanagan Valley as a healthy economy; making for a better community", says Brown. This is not the first time Penticton has seen Skaha Breeze become involved in community development. Speijer also hosted a PenMar Society event to create awareness for the PenMar Community Arts Cooperative in April at Skaha Breeze, located at 3591 Skaha Lake Road, where he and his wife Karen currently reside.
The Encore Winery events will offer information on a series of preferred shares available to eligible investors in the proposed 25,000 square foot, state of the art custom wine making and hospitality facility. To learn more about this opportunity, purchasing property at Skaha and other events being hosted on the rooftop terrace, please contact Eric Speijer at http://www.skahabreeze.ca or call directly at 250-809-8885.