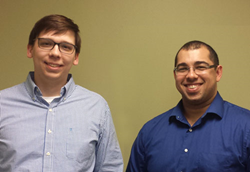 Chicago, IL (PRWEB) March 31, 2015
American Homeowner Preservation ("AHP") continued their growth by adding two key team members: Chris Dickey as Loan Resolution Manager and Patrick Schuessler as Fund Accountant. AHP is a socially-responsible investment manager which strives to keep families at risk of foreclosure in their homes and deliver above-market returns to investors. This is achieved by purchasing pools of nonperforming mortgages at big discounts from lenders and offering sustainable solutions to homeowners.
Dickey worked for Wells Fargo Home Mortgage for over five years. At Wells Fargo, Dickey oversaw a team of legal, accounting and mortgage professionals that researched and remediated potential regulatory and internal compliance concerns on delinquent bankruptcy accounts. He managed a portfolio of over 19,000 delinquent or relief eligible GSE and Non-GSE loans, with more than 3,000 monthly referrals, and active cases in all 94 federal districts. Dickey was accountable for meeting investor-mandated referral deadlines, production volume, loan reconciliation accuracy, process efficacy, employee hiring and retention, and the development of 15 full time and contingent employees.
At AHP, Dickey will oversee a team of eight asset managers, litigation coordinators and due diligence team members. AHP is in the midst of raising $30,000,000 to acquire 2,000 mortgages and Dickey fills a key role in upgrading policies and procedures and executing strategies to provide win-win solutions for homeowners and investors.
Patrick Schuessler worked for Archway Technology Partners for almost three years. At Archway, Schuessler performed accounting functions across a diverse variety of investment types, including real estate, hedge funds, private equity, municipal & corporate bonds, mutual funds, marketable equities, among others. He maintained accounting transactions and reconciliations for hundreds of portfolios per day as well as developed and documented accounting processes for clients, and performed daily, monthly and annual reconciliations. Schuessler also worked in software design, developing data integrations, and new system functionality.
At AHP, Schuessler will enhance accounting procedures and execute accounting functions to address the requirements of both institutional and high net-worth private investors. He is also expected to play a key role in integrating systems to aggregate data from multiple platforms to maximize near-real time stakeholder insight into AHP's performance.
The addition of Dickey and Schuessler improves AHP's ability to deliver extraordinary results to both homeowners and investors. For more information on American Homeowner Preservation, please visit https://ahpinvest.com/ or call (800) 555-1055.