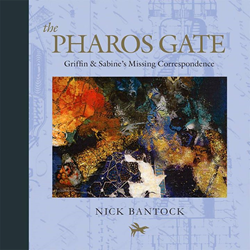 "Griffin & Sabine's is a love story for the ages," says Christine Carswell, Publisher of Chronicle Books and editor of The Pharos Gate.
San Francisco, CA (PRWEB) April 01, 2015
Griffin & Sabine: The Interactive Trilogy is the latest work by author Nick Bantock in collaboration with software development and creative content studio Bound Press in Santa Monica. The apps are based on the New York Times bestsellers, published by Chronicle Books, Griffin & Sabine, Sabine's Notebook, and The Golden Mean. This re-imagining of Nick Bantock's first three books in the Griffin & Sabine series is in production and seeking crowdsourced funding on Kickstarter. LIVE LINK: http://kck.st/1wWo6zt
In Spring 2016, Bantock and Chronicle Books will also release a new book in the Griffin & Sabine series, The Pharos Gate: Griffin & Sabine's Lost Correspondence, completing the series in celebration of the 25th anniversary of Griffin and Sabine, first published in 1991.
"This brings the stories full circle," notes Nick Bantock on how the projects coalesce. "With a successful Kickstarter, we can take the original stories to a new audience with an innovative, exciting form on tablets for iOS and Android. And with The Pharos Gate printed book we will provide a climax for how our lovers find their way in what has been a wondrous journey."
"Griffin & Sabine's is a love story for the ages," says Christine Carswell, Publisher of Chronicle Books and editor of The Pharos Gate. "Few books continue to resonate twenty-five years after their publication. That the tale of Griffin & Sabine does is testament to Nick's beguiling blend of word and image, mystery and romance. In whatever form Nick chooses to tell his story, surprise and delight is in store."
Griffin & Sabine: The Interactive Trilogy adds whimsical artwork, a custom soundtrack, and handwritten correspondence to the original story in a digital form. This story details the life of Griffin Moss, a postcard designer living in London, and his correspondence with Sabine Strohem, a stamp illustrator living in the South Pacific. The new app versions will include a 3D environment and unique creative content not developed for any version of these stories.
The Kickstarter campaign continues until April 9, 2015 to raise production and marketing funds for the project due to ship to consumers in Summer 2015. The campaign has already garnered Kickstarter's coveted 'Staff Pick' status.
Bound Press CCO, Scott Wolfe added, "When we decided to embark on this voyage with Nick, we were extremely excited. Not only do we get to continue to do what we love in developing these types of experiences, but we get to work with a creative mind that we truly admire. We're going to bring the magic of handwritten form and artwork into a re-imagined experience that will offer new perspectives of this universally loved tale."
The app trilogy will be an interactive experience that begins when readers arrive at Griffin Moss' studio to find it empty. They must examine clues by exploring Griffin's letters to determine what has happened to him. Three separate apps will be created for each volume, featuring whimsical animations, an original score and bonus content.
About Nick Bantock
Nick began writing at age 40 and has since published 26 books. Eleven of his works have appeared on best-seller lists, including three on the New York Times Top Ten list at once. The Griffin and Sabine story stayed on that list for more than two years and was later followed by a second trilogy. His works have been translated into 14 languages with more than 5 million sales worldwide.
About Bound Press
Bound Press was launched in the fall of 2014 by David Nichols and Scott Wolfe after decades of designing and developing award-winning interactive experiences. With roots in creative design, advertising, and software development, Bound is here to redefine the consumption of digital content online and with mobile Apps. Bound is also working overtime to bring fully immersive virtual reality experiences to both the consumer and corporate sectors. With projects currently in development for Oculus Rift and mobile VR, utilizing both 3D modeling and 360 degree video, our goal is to transport users into other worlds. http://www.boundpress.com
About Chronicle Books
One of the most admired and respected publishing companies in the U.S., Chronicle Books was founded in 1967 and over the years has developed a reputation for award-winning, innovative books.
Recognized as one of the 50 best small companies to work for in the U.S. (and the only independent publisher to receive this award), the company continues to challenge conventional publishing wisdom, setting trends in both subject and format, maintaining a list that includes much admired illustrated books and gift products in design, art, architecture, photography, food, lifestyle, pop culture, and acclaimed children's titles. Chronicle Books' objective is to create and distribute exceptional publishing that's instantly recognizable for its spirit, creativity, and value. For more information about Chronicle Books, visit http://www.chroniclebooks.com.
CONTACT BOUND PRESS:
David Nichols
dave(at)boundpress(dot)com
(310) 751-4700
Website: http://www.boundpress.com
CONTACT CHRONICLE BOOKS:
April Whitney, Chronicle Books
april_whitney(at)chroniclebooks(dot)com
(415) 537-4253