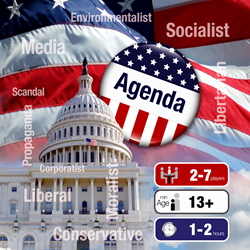 "The average SXSW attendee is an informed citizen, so we thought what better way to see how the informed public is leaning going into this election year," said Huntley Russell, community engagement specialist for The Agenda Game
AUSTIN, Texas (PRWEB) March 31, 2015
According to makers of political board game The Agenda Game, an online "straw" poll of more than 100 attendees at the 2015 SXSW Interactive and Gaming Expo revealed that when asked to name the most likely nominees for Republican and Democratic representatives for the 2016 Presidential election, Republican Jeb Bush and Democrat Hilary Clinton rose to the front of the pack…in a landslide.
In fact, Clinton took 64% of the Democratic nominee vote, followed far behind by Elizabeth Warren with 14%. Bush took 43% of the vote, with the next highest vote count at 17% for Rand Paul.
"The average SXSW attendee is an informed citizen, so we thought what better way to see how the informed public is leaning going into this election year," said Huntley Russell, community engagement specialist for The Agenda Game, "Given our game is all about the theater of politics, we thought this straw poll was a perfect fit."
According to Russell, now the game makers are waiting to see how "right" those polled were…
Additional nominees included Republicans Chris Christie and Marco Rubio at 12% and 11% respectively, as well as Democrat Andrew Cuomo at 7%.
About The Agenda Game
For anyone who has ever wanted to throw their hat in the political ring, this board game pits friends, family and political wonks against each other to see who can raise enough money, lift opinions in the polls and earn enough votes to successfully defend their agenda. But watch out, along the way you'll have to test your political knowledge, frame agenda planks and steer clear of propaganda and back-handed deals. The Agenda Game is only sold online via theagendagame.com and Amazon.com for $34.99.