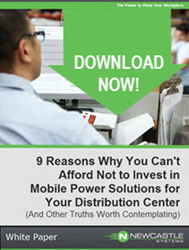 It's impossible to achieve high service levels when you have multiple workers vying (and waiting) to use the same static equipment all day long.
Middleton, MA (PRWEB) March 31, 2015
For the range of particular challenges faced by fulfillment centers today, mobile power solutions now add another dimension to the work of streamlining processes, helping employees accomplish the most during each shift and ensuring exceptional, on-time customer service. No matter what a facility's particular needs may be, there are viable solutions available via the implementation of customized power workstations as outlined in this new White Paper from Newcastle Systems.
Get the White Paper today and find understand which of these benefits of mobile power solutions can impact the typical business quickly and effectively.
1. Solutions for Every Scenario
2. Give Your Customers What They Want
3. Reduce Unnecessary Downtime
4. Provide Your Workers with the Proper Equipment to Perform Their Jobs Well
5. Increase in Productivity
6. Return on Investment
7. Where Customized Solutions are Necessary
8. Improve Your Workflow
9. Tax Break Opportunities
Download your own copy of the White Paper or view our short video for applications across the whole warehouse.
About Newcastle Systems
Newcastle Systems is an innovator of workplace mobility solutions for many of the world's leading retail and operations companies. As the leading provider of Mobile Workplace© solutions, Newcastle Systems provides the means to dramatically improve employee and facility productivity without major changes to your infrastructure, software or processes. A Newcastle Systems' Mobile Workplace© facility requires less equipment and less power to do the same work as a standard workplace configuration.
Newcastle Systems is a "Customer-First" Business whose philosophy is "Provide innovative solutions that make equipment more mobile and information more readily available across an entire enterprise. Period."
For more information: Please visit our website at http://www.newcastlesys.com or direct inquiries to us by phone at 781-935-3450 or by e-mail at sales(at)newcastlesys(dot)com.