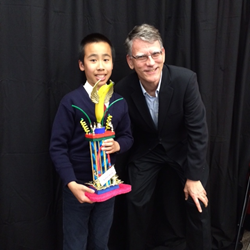 I hope to use my experience to go further and one day improve our environment and make life easier for the people around the world.
San Jose, CA (PRWEB) March 31, 2015
At the March culmination of the San Mateo County STEM Fair, Nathan Wong from Daly City received the RAFT Award for his project, "Banana Peel Briquette vs. Charcoal: Which is Hotter?" The experiment, prepared over several months, involved drafting a hypothesis, developing procedures, gathering materials, creating banana peel briquettes, and then testing, measuring, and analyzing results. The unique experiment found the hand-made banana peel briquettes to burn hotter than commercial charcoal.
When asked what inspired him to pursue this topic, Nathan responded, "We eat a lot of bananas at our house and compost the peels. One day I thought if there was another way people could benefit from them. How else could the peels be used to help the environment instead of being composted or thrown away?" After conducting initial research, he decided to use the peels to create a practical fuel that also reduced emissions of the toxic fumes from traditional charcoal.
RAFT, Resource Area For Teaching, is a nonprofit dedicated to enhancing education through hands-on learning experiences made possible by the creative reuse of common materials. Greg Brown, Director of Education Initiatives at RAFT, participated as a judge at the San Mateo County STEM Fair. He was immediately impressed by the combined creative and practical implications of Nathan's project. Reducing environmental impact while developing innovative solutions to everyday problems aligns strongly with the organization's mission.
To prepare the banana peel briquettes, Nathan collected, dried, and mashed banana peels, which he later mixed with fresh peels to form briquettes. After a week of drying, he tested the banana peel briquettes against commercially produced charcoal by recording the temperature of a pan of water heated over a small grill with both types of fuel. Over a ten-minute period, the banana peel briquettes generated higher temperatures, which was contrary to Nathan's initial hypothesis. Through the process, Nathan learned that there is always room for improvement, and shared that if he were to conduct the experiments again, he would like to measure temperature over a longer timeframe.
"The San Mateo County STEM Fair was a great experience for me from the beginning to the end," said Nathan. "There were many interesting projects that opened my mind to the science and engineering fields. I hope to use my experience to go further and one day improve our environment and make life easier for the people around the world."