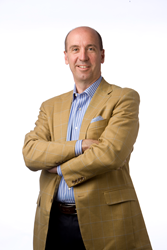 I speak on the idea of creating the future because it is empowering, optimistic and action-oriented. But, above all, it is true.
Miami, FL (PRWEB) April 01, 2015
As a professional futurist, Jack Uldrich frequently ends his talks with the rather obvious reminder that no one can predict the future. He then twists this fact by flashing Peter Drucker's famous quotation: "The best way to predict your future is to create it." Uldrich says he "loves the idea of creating the future because it is empowering, optimistic and action-oriented. But, above all, it is true."
Jack Uldrich is a renowned global futurist, independent scholar, sought-after business speaker, and bestselling author. And this April Uldrich is preparing to deliver eight keynote addresses to a variety of organizations:
April 7: Kidde Fire Systems | Jacksonville, FL
April 9 & 10: West Kendall Baptist Hospital | Miami, FL
April 12 & 13 Stiles | Atlanta, GA
April 14: BCBS | Durham, NC
April 15: NC Association of Electric Coop | Raleigh, NC
April 16: Foth | Green Bay
April 23: Association for Hose & Accesories | Miami, FL
April 27: International Refrigeration | Orlando, FL
Uldrich is also the founder and "Chief Unlearning Officer" of The School of Unlearning — an international consultancy designed to assist organizations succeed tomorrow by unlearning today. He has served as an advisor to Fortune 1000 companies and has spoken to hundreds of businesses and organizations.
He is noted for his ability to deliver stimulating, new perspectives on competitive advantage, organizational change, and transformational leadership, while helping businesses to adapt. His speeches on topics such as future trends, emerging technologies, innovations, change management, and leadership prove to be captivating and provocative.
His best-selling and award-winning books include "The Next Big Thing is Really Small: How Nanotechnology Will Change the Future of Your Business," "Green Investing: A Guide to Making Money through Environment-Friendly Stocks, " "Higher Unlearning: 39 Post-Requisite Lessons for Achieving a Successful Future" and "Unlearning 101: 101 Lessons in Thinking Inside-Out the Box."
Uldrich's written work has also appeared in The Wall Street Journal, BusinessWeek, The Futurist, Future Quarterly Research, The Wall Street Reporter, Leader to Leader, Management Quarterly, and hundreds of other newspapers and publications around the country. He is also a recurring guest of the media worldwide, having appeared on CNN, MSNBC, and National Public Radio on numerous occasions.
In addition to Uldrich's alccolades, he strives to practice what he preaches and create his own future. He has plans ranging from address the issue of income inequality in America and bringing back a billion butterflies to the U.S.
Parties interested in learning more about Uldrich, his writing or speaking availability are encouraged to go to his website. Media wishing to interview him, or know more about the event can contact Amy Tomczyk at (612) 343-0060.