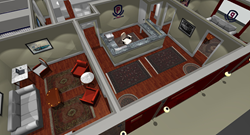 NY, NY (PRWEB) April 02, 2015
Posh City Club is preparing for its 2015 debut of NYC's first members only rest lounge, that caters to the busy lifestyle of the New York City enthusiast.
At the Posh City Club, members are treated to an experience that takes the stress out of spending time in the city that never sleeps.
The Posh City Club is an exclusive members only lounge where travelers, suburban commuters, and city dwellers alike can kick up their heels between work and meetings, after an outdoor run or while sightseeing with their families. With a planned launch in Midtown, Manhattan in late 2015, they're getting the word out now about their many amenities and limited time membership prices.
When members open the doors to the Posh City Club, they'll be welcomed into a world of clean, comfort complete with immaculate private restrooms, sitting areas, and sanity-saving private lockers. Parents can breathe easier in a space that will allow them to regroup and take care of their small children's needs worry-free, while individuals looking to freshen up after work or avoid rush-hour can do so with ease.
Posh City Club also offers private lockers that are a convenient space for stowing purses, shopping bags, and extra coats when there's no time to run home. They're even equipped with charging stations for electronic devices, and complimentary Wi-Fi for all those last minute e-mails and travel directions.
While stopping in at a locker, members can also take advantage of the club's luxury, ADA compliant bathrooms. These are not the typical rows of toilet stalls as seen at the office or gym, but rather individual restrooms that are completely private. Touch-less toilets and sinks, personal showers, changing stations, and soundproof lavatories all await those in need of a quick pick-me-up. In order to meet a high standard of quality, full-time attendants are at the ready to ensure restrooms are freshened after every use.
Membership packages start at only $15 a year, with day passes available at four pricing tiers. The different tiers determine how many day passes members will need to purchase at minimum. The more passes purchased, the better the savings. Each pass gives the member full access to all the lounge's services for the entire day, and can even be gifted to an accompanying friend regardless of whether they're a member or not.
With the Posh City Club, convenience, luxury, and affordability are finally within reach for city-goers in the know. The first branch is expected to open in Midtown Manhattan, where its central location to shopping, nightlife, and business will make it the ideal resting spot while on-the-go. Over the next few years, they plan to expand throughout NYC and to other major cities such as Chicago, Boston, and the DC area.
For early bird membership signups or additional information, please visit http://www.poshcityclub.com or contact Nicki@veteranpr.com.
Contact:
Nicki Thomas
Veteran PR
P. 708-733-0728
E. nicki(at)veteranpr(dot)com
http://www.veteranpr.com
About Veteran PR:
Rooted in the belief that hard work coupled with honesty and integrity is the key to any success, Veteran PR strives to help companies build their brand awareness through strategic and effective Public Relations Campaigns and Social Media Marketing Efforts. Veteran PR launched in 2015 after military veteran, Staff Sergeant Jason Thomas, teamed up with his wife and seasoned PR professional, Nicki Thomas. Together their vision is to help small businesses, especially veteran owned businesses, build their brand awareness with a PR Company business owners can trust.