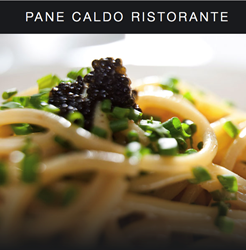 Local favorite Pane Caldo, an Italian restaurant in downtown Chicago, proudly announces an exciting new reopening after shuttering its doors for two years
Chicago, IL (PRWEB) April 02, 2015
Local favorite Pane Caldo, an Italian restaurant in downtown Chicago, proudly announces a reopening after shuttering its doors for two years. Returning to business as of January 15 of this year, it was always the family's intention to bring the restaurant back again in a big way and with their new location Chestnut Street location they've accomplished exactly that.
Pane Caldo's new address is 111 E Chestnut Street. The new space is not far away from what was its original long time location at 72 E Walton Street. The dining area of the new space is larger than its old digs and was created to bring diners a much more open and comfortable experience.
Over its many years of doing business in the neighborhood, the family-owned Pane Caldo had established itself as one of the best Italian restaurant Chicago's Gold Coast with consistently high quality service and always excellent food. Featured menu items includes an assortment of pasta choices including Maine lobster risotto, linguine with wild mushrooms and white truffle demi glace along with pork shank, braised short rib, and salmon dishes. Owner Urbana Cedicci wants to assure longtime customers that the new menu will feature some new surprises as well as Pane Caldo's popular signature favorites including the famous pre-meal warm focaccia with tomato relish and olive tapanade.
Owner Urbana Cedicci's mission for the reopened Pane Caldo is to create what may be the best Italian restaurant in Chicago. Reservations are encouraged. Call 312-649-0055.
Pane Caldo
111 E Chestnut Avenue
Chicago's Gold Coast
312-649-0055
http://www.panecaldo.us
Social media:
https://www.facebook.com/panecaldoristorante
Instagram: PaneCaldoChi
Twitter: PaneCaldoChi