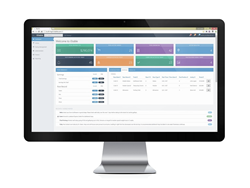 "iStable provides equine professionals with a single application platform to manage day-to-day operations while automating owner and client communication. Together, these features allow professionals to do more, with less."
Springboro, Ohio (PRWEB) April 01, 2015
iStable has announced both the release of iStable Web+ Mobile and the official public launch of the company's application platform to all equine professionals. With over six months of invitation-only client testing completed, along with thousands of man-hours simultaneously allocated to development of the browser-based platform, iStable is excited about officially launching its expanded value proposition to equine professionals worldwide.
The Web+ Mobile application platform rounds out the company's "any platform, any device" initiative. Complementing its application products, including Android and iOS versions, the browser-based platform is built using robust, responsive software tools that allow it to be run on any device, anywhere, anytime, quickly and efficiently.
From graphically presented management dashboards, to integrated data and automated communication services, the connected components of iStable are perfectly positioned to change the way technology is used in equine care and stable management. Whether it be office work, logging information in the shedrow, communicating with clients, or simply managing the activities completed by employees, iStable's multi-faceted platform is positioned to facilitate the task at hand.
Commenting on the release of the Web+ Mobile platform, iStable CEO Lee Midkiff commented, "We are extremely pleased with the depth of functionality the iStable platform provides equine professionals. Our team set out to build a platform that allows equine managers to do more with less while also providing owners and clients with a more streamlined means of receiving information related to their horses. We are excited to have executed on that vision and look forward to seeing the modern technology adopted throughout the equine industry".
Thoroughbred professionals in particular will see the iStable Web+ Mobile release greatly expand the use of automated data within their daily work regimen. The new release provides integrated data inclusive of automated horse look-up, integrated race entry and result information, family updates, catalogue-style pedigrees, workout tracking, as well as most recent sales information. All integrated data is tracked and managed automatically with relevant data made available to both thoroughbred professionals and their owners.
Highlights of iStable Include:

Aids equine professionals in managing their diverse, day-to-day operations via a user-friendly platform where all ongoing activities across facilities, barns, stalls and paddocks may be logged and tracked, records maintained, notes documented, and multimedia and documents stored
Enables true workflow by providing users with the ability to establish automated tasks, create notifications to various parties based upon activity completion, as well as create future work items derived from the completion of those activities (e.g., vet visits, supplement and medication dosages, farrier work, outside performed services, etc.)
Creates and maintains a single record of care on each horse that falls under the responsibility of an iStable user
Provides a system that can trim significant time and money out of the operational facets of managing a stable
Makes available to owners via both automated email notifications and online access all documents, multimedia files, tasks and information logged within the iStable system
Accessible from any platform and any device using the Web+ module as well as mobile versions available via the AppStore and GooglePlay
Integrates thoroughbred race entries, results, workouts, family updates, catalogue-style pedigrees, sales results and searching capabilities, thereby eliminating data entry and manual reporting for each integrated data element
"The ability to handle ongoing activities and client communication simultaneously with iStable has greatly benefited the manner in which we are able to get information to our clients," commented Jonathan Thomas, Head Trainer at Bridlewood Farm in Ocala, FL. "Having worked in both on and off-track training environments I see this technology as being able to easily be used in any equine environment."
With the public launch of iStable Web+ Mobile, interested individuals may now sign up for an account in real-time by visiting http://www.istable.com. iStable account managers are also available daily to provide prospective users with both in-person and online training and presentation sessions.
About iStable: Based in Springboro, Ohio, iStable provides equine professionals with a dynamic workflow and collaboration solution that saves horsemen time and money while helping bolster overall equine care. iStable further provides a robust communication platform that allows care records, activities and notes to be automatically communicated to other parties, including owners and stable managers. For more information about iStable please visit http://www.istable.com