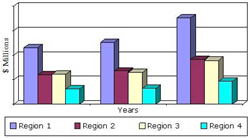 The radiation therapy market is expected to reach $8.1 billion in 2019
Wellesley, Mass. (PRWEB) April 01, 2015
BCC Research (http://www.bccresearch.com) reveals in its new report on radiation therapy, usage is expected to increase as the incidence of cancer rises. The greatest growth in radiation therapy will be driven by demand in developing countries, particularly in India and China. New techniques have changed the way treatments are planned and doses are delivered.
In the 21st century, the frequency of cancer and the suffering often associated with it has significantly raised cancer awareness. Radiation therapy, along with chemotherapy and surgery, is used to treat cancer. It is estimated that radiation therapy is administered to 50% of all cancer patients. The discovery of X-rays and radioactivity lead to the development of radiation therapy treatment techniques. The market for radiotherapy was estimated at $5.8 billion in 2014 and is anticipated to increase at a compound annual growth rate (CAGR) of 6.7% to $8 billion by 2019.
External Beam Radiation Therapy (EBRT) commands the largest share of the radiation therapy market with an estimated 84% or $4.9 billion in revenue. This segment is set to grow at a healthy rate of 6.6% during the forecasted period and is predicted to reach $6.7 billion by 2019. The highest growth is forecast for the systemic radiation therapy market due to new radiopharmaceuticals poised to hit the market.
"Since this is a capital intensive industry, a stable economy is a necessity for growth. Half of all cancer cases are occurring in developing countries, many of which have strong economies," says BCC Research analyst Neha Maliwal. "This enables them to have the purchasing power to buy equipment. The major threat is economic downturn or recession; the radiation therapy market saw a major dip during the recession of 2009."
Radiation therapy, also known as radiation oncology, is the most common treatment for cancer. In radiation therapy, high-energy particles or waves are used to destroy cancer cells. It is also used to treat benign (non-cancerous) tumors and other conditions such as thyroid disease and various blood disorders.
Several major drivers are expected to boost the growth of this market in the forecasted period. These include government funding through constant reimbursement, continuous research and development applied to different applications, and the fact that radiation therapy is an efficient treatment. Major factors restricting the growth of the radiation therapy market, particularly in developing countries, are the high cost of the devices, space restrictions and the lack of trained professionals to administer it. Other factors that have a negative effect on the market include radiation therapy's limited effectiveness against metastatic cancer and its side effects.
Radiotherapy: Technologies and Global Markets determines the global market and future demand growth for radiation therapy equipment from 2014 to 2019. It quantifies the radiation therapy market potential by technology, type and geography market.
Editors and reporters who wish to speak with the analyst should contact Steven Cumming at steven.cumming(at)bccresearch(dot)com.
About BCC Research
BCC Research publishes market research reports that make organizations worldwide more profitable with intelligence that drives smart business decisions. These reports cover today's major industrial and technology sectors, including emerging markets. For more than 40 years we've helped customers identify new market opportunities with accurate and reliable data and insight, including market sizing, forecasting, industry overviews, and identification of significant trends and key market participants. We partner with analysts who are experts in specific areas of industry and technology, providing unbiased measurements and assessments of global markets. Recently selected as the world's greatest market research company, BCC Research is a unit of Eli Global, LLC. Visit our website at http://www.bccresearch.com. Contact us: (+1) 781-489-7301 (U.S. Eastern Time), or email information(at)bccresearch(dot)com.