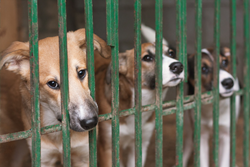 It has become our mission to raise funds for shelter pets to spay and neuter.
Marietta, GA (PRWEB) April 28, 2015
Dentists Kirk Kimmerling DDS, Suzanna Aguilera DMD, and Garrick McGrath DMD at Verde Pointe Dental Associates and veterinarian Julian Peckich DVM at Marietta Vet Clinic have once again joined forces in support of Cobb County shelter pets. Both offices will participate in a fund raising event on Monday, May 4th, 2015 with a surprise offering in lieu of a donation.
"Helping local animals is important to both offices. We plan on giving surprise special treats for a donation of any amount," says Dr. Kimmerling. "Our doctors, staff and patients love our efforts to join the vet office in the cause. It has become our mission to raise funds for shelter pets to spay and neuter.
The funds will be donated to the Tigg Neuter Project, a a group of Cobb County citizens that have grown tired of seeing adoptable animals die simply because they have no home and there is no space at animal control. The Tigg Neuter Project works at spreading the message unaltered pets create the over population at animal control. Spaying and neutering every animal is the only answer. The Tigg Neuter Project is run under half the way home, a 501c3 rescue organization.
Animal lovers in the community is welcome to stop, get a treat and make a donation to the cause. No appointment is necessary at either clinic. The treats are a surprise, but have been promised not to disappoint. They are available on a first come, first serve basis.
Kirk Kimmerling DDS and Suzanna Aguilera, DMD are Marietta cosmetic dentists and Marietta emergency dentists that are paving the way for the future of dentistry. The office is technologically sophisticated in not only equipment and procedures, but also developing dental materials via Kimmerling Holdings Group, LLC and fiteBac SkinCare, LLC, Dr. Kimmerling's biotechnology firms. The Marietta emergency dentists invite new patients to meet their exceptional staff and experience and benefit from state of the art dental care. The office offers a broad range of services from teeth cleaning, teeth whitening, dental whitening, dental veneers and Marietta dental implants, Marietta dental veneers, and dental bridges, dental crowns, dental fillings, tooth implants and veneer Marietta and Marietta root canals.
Marietta Vet Clinic and veterinarian Julian Peckich DVM are pleased to welcome dogs and cats to the affordable pet clinic, dog clinic and cat clinic. Dr. Peckich provides veterinary services for the Marietta, Kennesaw, Dallas, Acworth, and Powder Springs, GA. It would be their great pleasure to welcome dogs and cats to the pet family for cat vaccinations, dog vaccinations, sick animal relief, laboratory testing, pet teeth cleaning, veterinary dentistry, wellness exams, spay and neuter clinic and mobile veterinary services.