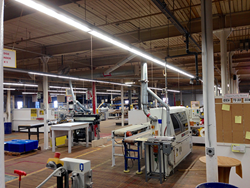 ....Any company that is not taking energy conservation opportunities as seriously, is leaving money on the table
Providence, Rhode Island (PRWEB) April 02, 2015
If you've been to a local jewelry store or big box retailer nationwide, you've likely seen International Packaging's products. The company is a world leader in the manufacture of jewelry boxes, displays, shopping bags and other custom packaging that are part of virtually every consumer's day to day life. With a large operation and over a million square feet of manufacturing and warehouse space under their control, they also happen to be a company that is as much focused on efficiency as they are on creativity.
Energy conservation is no exception to that commitment, as evidenced by a massive energy reduction campaign recently completed at their Pawtucket design and manufacturing facility. The project took 3 months to complete and tackled both mechanical efficiencies as well as lighting energy conservation. The former was completed in house by International Packaging's own staff, while the latter was handled by Energy Source of Providence, a firm that specializes in turn-key energy conservation solutions for businesses.
Jim Howard, Director of Operations at Energy Source, explains his company's role in the project.
"This project initially focused on efficiency in the plant's mechanical components but during the early phases of planning, it became clear there may be even greater savings to be achieved on the lighting side. After conducting a facility wide lighting audit which confirmed the conservation opportunity, we drafted a plan." Howard said.
Energy Source's team implemented their proposed solution, replacing inefficient fluorescent and metal halide systems with nearly 1,000 state of the art LED fixtures. The newly installed system not only offers dramatically improved lighting conditions on the work floor, but saves an astounding 300,000 + kilowatt hours of energy, amounting to savings of nearly $50,000 dollars per year.
Energy Source's Howard says that while savings like those achieved at International Packaging are impressive they are far from unusual for his firm.
"We are convinced that virtually any business that requests an energy audit will discover savings, on a relative scale, that are equally impressive and impactful to the bottom line. I applaud International Packaging's decision to expand their initial project to include lighting efficiency and I remind any company that is not taking energy conservation opportunities as seriously, that they are leaving money on the table." Howard said.
International Packaging is so impressed with Energy Source's performance that they have asked Howard to see what can be done at the company's other locations.
Howard points out that Energy Source's designation as NationalGrid Project Expeditor also qualifies them to navigate the process of securing Utility Incentives on behalf of their clients. The ability to secure those incentives from NationalGrid and other utilities nationwide makes the financing of these conservation projects very attractive for clients. In the case of International Packaging, they can expect a simple payback of less than two years.