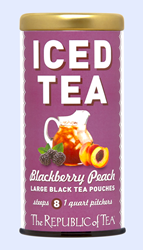 Novato, Calif. (PRWEB) April 06, 2015
The Republic of Tea is proud to announce its new Blackberry Peach Iced Tea is now available exclusively at Central Market stores across Texas. The refreshing iced black tea, crafted with the hot Texas sunshine in mind, is the latest varieTEA in The Republic of Tea's line available at Central Market stores.
As the leading purveyor of premium teas, The Republic of Tea prides itself in creating vibrant tea experiences for its Citizens. Its Blackberry Peach Iced Tea combines the all-natural flavors of juicy blackberries, succulent peaches and premium black tea, perfect for quenching one's thirst on a hot sunny day in Texas. The Blackberry Peach Iced Tea pouches are perfectly portioned to brew one-quart pitchers for enjoying with a crowd or sipping by one's self throughout the day. The sugar and gluten-free tea provides a burst of sweet freshness to the palate, sip by sip.
"We are excited to launch our new Blackberry Peach Iced Tea exclusively at Central Market, which was awarded our prestigious 'Embassy of the Year' in 2014," says Kristen Richens, Minister of Commerce for The Republic of Tea. "We are eager to offer our Citizens and Central Market fans the special opportuniTEA to enjoy this refreshing iced tea, directly inspired by Texas' climate and flavors."
The Republic of Tea is available nationwide at natural and specialty food stores, cafes and through the company website (http://www.REPUBLICofTEA.com), mail-order catalogue and by calling, 800.298.4TEA (832).
###
About The Republic of Tea:
The Republic of Tea enriches people's lives through its premium teas, education and innovation, as it emphasizes a "Sip by Sip Rather Than Gulp by Gulp" lifestyle. Founded in 1992, The Republic of Tea sparked a specialty tea revolution. Today the brand offers an unequaled selection of the highest-quality teas, herbal blends, books and nature-inspired sip ware, available exclusively at specialty retailers throughout the U.S. Further, The Republic of Tea is mindful of how its actions impact the greater community and actively supports worthy organizations like Action Against Hunger, The Ethical Tea Partnership, The Prostate Cancer Foundation and The Whole Planet Foundation. Certifications include Demeter USA Certified Biodynamic, Fair Trade certification, Gluten-Free certification, Non-GMO Project verification, OU Kosher certification, Rainforest Alliance certification and USDA Organic certification. For more information, please visit http://www.REPUBLICofTEA.com or call 1.800.298.4832. Follow The Republic of Tea on Twitter at twitter.com/republicoftea and Like us on Facebook at http://www.facebook.com/RepublicofTea.
Contact Information:
Michelle Juralewicz, Minister of Enlightenment, juralewicz(at)peoplemakinggood(dot)com
5 Hamilton Landing, Suite 100, Novato, CA 94949 ~ Tel 415.382.3400 ~ Fax 415.382.3401 ~ http://www.REPUBLICofTEA.com