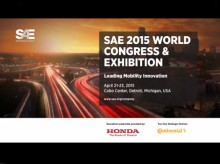 The diversity of the SAE World Congress will mean that job seekers will come from an array of backgrounds in regards to technological skill sets and experience.
DETROIT (PRWEB) April 01, 2015
Companies seeking automotive engineering professionals will be able to meet with prospective candidates at the SAE 2015 World Congress Career Fair in Detroit.
The Career Fair will be held at Cobo Center April 21 from 10 a.m. – 6:30 p.m. and April 22 from 10 a.m. – 6:00 p.m. at the SAE World Congress in Detroit.
The SAE World Congress is the industry's premiere conference for mobility engineers, offering the latest in cutting edge engineering technology. It also offers a chance for job seekers to network with an array of potential employers from around the world. In addition to meeting with potential employers, job seekers can participate in a number of helpful networking activities, including: attending Career Development Sessions for career skills, attending a free Resume Clinic where mobility industry experts will critique resumes, and browse open positions.
For companies, the event presents an opportunity to find talented job seekers that can fulfill a company's unique project needs. The diversity of the World Congress will mean that job seekers will come from an array of backgrounds in regards to technological skill sets and experience.
Participating employers include:

Adecco Engineering & Technology
Aerotek
Aisin Technical Center of America/Aisin World Corp. of America
Atieva Inc.
Brightwing
Continental
CTP Transportation Products LLC (formerly Carlisle Transportation Products)
Delphi
ESG Automotive
FCA USA LLC
FEV North America, Inc.
Federal-Mogul
Ford Motor Company
Fujitsu Ten
GTA Professional Staffing
Hyundai America Technical Center, Inc. (HATCI)
KPIT Infosystems, Inc.
KSPG
Lumenance, LLC
Magna International Inc.
Meiden America, Inc.
The Ohio State University College of Engineering
Panasonic Automotive Systems of America
Plastic Omnium, Auto Inergy & Exterior
Pure Michigan
RCO Engineering
Robson Forensic, Inc.
Satyam Venture Engineering Services, PVT LTD
University of Michigan-Dearborn College of Engineering & Computer Science
University of Michigan Division of Integrative Systems + Design, College of Engineering
Valeo North America, Inc.
Volkswagen Group of America Chattanooga Operations, LLC
SAE International also is holding two Career Development Sessions on Wednesday, April 22, from 9:30 – 11:30 a.m. in Cobo Center room 410B; and a Resume Critique Clinic Wednesday, April 22, from 1:30 – 3:30 p.m., which is provided by Fisker Automotive, GTA Professional Staffing and Intertek.
For more information on career opportunities in the mobility industry, please visit the SAE Career Center online at http://www.sae.org/careers.
To learn more about the SAE 2015 World Congress, or to register, visit http://www.sae.org/congress/. To request press credentials, email pr@sae.org or call 1-724-772-8522.
SAE International is a global association committed to being the ultimate knowledge source for the engineering profession. By uniting more than 137,000 engineers and technical experts, we drive knowledge and expertise across a broad spectrum of industries. We act on two priorities: encouraging a lifetime of learning for mobility engineering professionals and setting the standards for industry engineering. We strive for a better world through the work of our philanthropic SAE Foundation, including programs like A World in Motion® and the Collegiate Design Series™.